Your Local Grocery Store
Hello Blogaganoush followers! I apologize for my lack of blogging recently, but I am back now and ready to take on the world of food. Today I will be discussing grocery stores. Back in the day people would just go to the nearest market for all their food needs. Nowadays that is not how we roll – with easy transportation the options have opened up even more. Each grocery store has its own feel and perks that can make your shopping experience unique.
Jerry's Foods – The best part about Jerry's is that it's a symbol of Edina. It's been around for as long as I can remember, and I'm pretty sure everyone cried when they changed the sign and got rid of the spinning door (I know I did). Also it's very convenient, especially when you're out shopping with grandma and grandpa, since they have the drive-through where you can pick up your groceries. Another one of the best perks of Jerry's is that instead of selling pre-packaged meat, they have a butcher shop, so their meat is much more fresh and juicy. Also they have a great fish counter with a wide variety of delectable ocean-goers. They recently went through renovations and placed a Starbucks in the store, so you can get a nice cup of joe on your way out.
Lunds & Byerly's – Lunds and Byerly's are some of the more high-end grocery stores of Edina. Their produce always looks fresh and they have a very chichi look. With their carpeted floors and sushi counter I always feel like I'm some kind of celebrity. I also like how they use the streets of Edina for their aisles; it's very appealing and touches my heart every time. By far the best part about these grocery stores though is that they have Big Bowl takeout and a Caribou. It's always a great place to go for a quick but delicious dinner or stop-by in the morning for coffee. The downside, though, is that their food is a little on the pricy side.
Whole Foods – If you are an environmental activist in the upper middle class who enjoys good healthy food and long walks on the beach then this is the grocery store for you! Almost everything in their store is natural and organic, and they seek only the highest quality. They promote environmental stewardship and donate 5% of their profits to many different communities. They are all about having a peaceful, sustainable, and healthy planet. So what's the catch? Well, Whole Foods is quite pricey – some even call it "Whole Paycheck."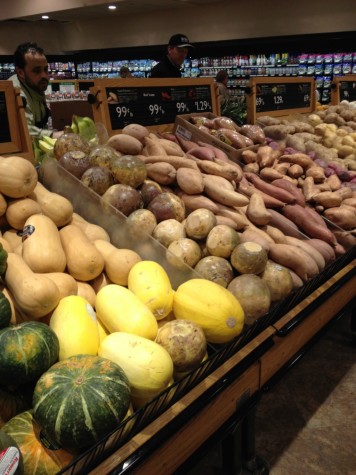 Cub Foods – Cub foods is a pretty typical generic grocery store. I wouldn't say there is anything special about it except that they have great bargains. So if you are looking for a deal, shop at Cub.
Target – Now, Target didn't used to be a grocery store, but in the past few years they have expanded to include groceries. Though the food isn't what I would call top quality, it is convenient because you can basically get everything at Target now.
Costco – Basically the best part about the food at Costco is that it comes in bulk. If you are ever hosting a party or feeling extra hungry, you can get as much as you need and the best deal at Costco.
There are many grocery stores that I have not covered, but these are the ones most Edinans shop at. What's better than all of these grocery stores I've mentioned is the local farmers market. There are many farmers markets in the Twin Cities and some even go through the winter. The food is fresh, local, and it is a fun experience to see the many options and to be outside. A lot of the food at farmers markets is also organic and generally tastes much better than what is found in grocery stores.
So take your pick! Whether it's high-end and fancy or simple and local, there is a shopping place for every one.
Peas out.
About the Contributors
Adair Andre, Staff Writer
Adair "Triple A" Andre is a staff writer. She isn't talented enough for anything else. Adair tries to run with the Girls' Cross Country team, but usually...