Athlete of the Month: Andrea Janson
Janson discusses Edina Girls' Varsity Tennis and overcoming injury
Senior Andrea Janson of Edina High School has been ranked fourth in girls section 2A tennis. Steven Paulsen, Janson's coach, noted that "Andrea is a very aggressive player with the ability to be very offensive with her groundstrokes." Additionally, Janson was voted as one of the team's captains and has shown amazing leadership abilities.
While Janson has been only been on the EHS Girls Varsity Team since last year, her journey with tennis started more than a decade ago. Before moving to the United States last year, Janson lived in Sweden with her family and a father who is an active tennis player and is the one who Janson cites as the person who inspired her to start playing tennis when she was around five years old. Since. In Sweden, Janson played at a small tennis club with a "team" that consisted of her and four younger boys. Although it was fun, "I prefer having a team a lot more [with the girls]," Janson said.
When her father received a job in the United States, Janson was motivated to try out for EHS's tennis team. After making it to varsity, the team has become very important to Janson as the girls have been very supportive and helpful, and Janson considers them to be her close friends. Additionally, Janson has found the coaches to be very attentive and caring, "the coaches are really nice, and they care a lot about us in tennis and outside of tennis as well," Janson said.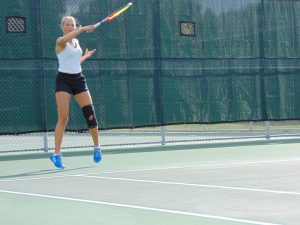 However, like any other athlete, Janson is not a stranger to injuries. Ever since she was young, Janson's knee has been prone to dislocating. Janson got surgery when she was thirteen, but she is still forced to take time to recuperate as it sometimes acts up again. Nevertheless, Janson is motivated to adapt to her knee situation and push forward on her tennis journey well into college because she loves "getting better, getting stronger, missing less, and winning matches."