Meet the athlete: Charlie Webb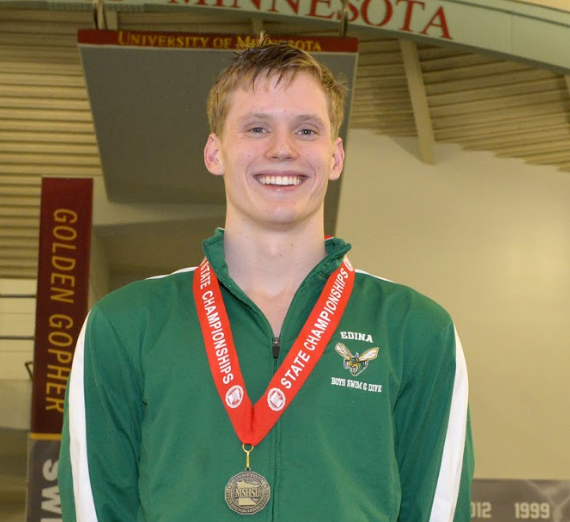 Since joining the Edina Boys' Varsity Swim and Dive Team his freshman year, senior Charlie Webb has won back to back state swimming championships. As a graduating Edina High School senior, Webb reflects on his time as a swimmer. 
Zephyrus: When and why did you start swimming?
Charlie Webb: [I started swimming] when I was six years old, and I was absolutely trash because I had ear tubes—I had to wear ear plugs and did not put my head underwater. I became serious when I was around eight. I really loved it. I had a ton of friends who [swam] and that really kept me in it, especially [since] I had some friends in older classes that were super good and carried us by setting state records. 
Z: What is your favorite stroke?
CW: Freestyle. 
Z: What is the biggest challenge that you have encountered as a swimmer? 
CW: I would just say that it is a ton of work. You don't get lucky as a swimmer. It's just straight two and a half hours a day, six days a week, 46 weeks a year, plus four hours of work outside of swimming. You need to put in that work in order to get better. 
Z: How did you manage your time with such a busy schedule?
CW: You really don't. I'm always tired, and you catch up on a lot of sleep on the weekend. But it does help you keep focus because after you swim, you're like, "oh, I only have an hour to do this," and you're super efficient with the time that you do get. I think this is universal with all athletes. 
Z: What has swimming taught you?
CW: Straight determination, hard work, and persistence, and all that fun stuff is really going to help out in the future. 
Z: What did it feel like to win the state championship again this year?
CW: The absolute world to me. That was my goal for my entire life. My entire swim career I felt led up to state of my senior year. And we won. I could not have been more proud and thank all of the people that helped me get there, because it was just insane. Everything beautifully came together and we won and it was fun to see! 
Z: What was it like when you first got on the Edina Boys' Varsity Swim Team? 
CW: I first got on the team as a freshman. The year before I got on the team, I don't know if they scored any points at the state meet. But if they did it was probably worse than the 20th team. And then in my freshman year, we instantly started carrying the team as freshmen. That year we got sixth. So even though we were freshmen, and I still remember my captains from freshman year, we were literally carrying the team from day one. Freshmen year [had] an interesting dynamic where we were carrying the seniors, but we [also] respected the seniors. 
Z: What are some of your hobbies? 
CW: Swimming, play some Minecraft, and hang out with my friends. 
Z: How will swimming pan out in college?
CW: I am not swimming in college. Starting this past Feb. 29, I am no longer a swimmer. Even though I love the sport and all of the people that did it, I was not having fun while swimming anymore. It was the same old, same old. Just black line, going back and forth towards the end. It was either my last meet [then] or it was in four years, and I did not see a huge difference. 
Z: What is something that you would like to say to your teammates and coaches?
CW: Keep on grinding. Keep swimming into the light, hammer down. It's been a blast. I'm seriously going to miss it. It's been a great time in my life. 
Z: What is one of your favorite memories of being on the swim team? 
CW: Definitely cheering for Mike Lee. That was legendary. Winning back to back state—that was probably one of my favorite memories obviously. Just the usual shenanigans with all of the people too.