Fall slowly in love with 'Once', a touching music-based modern day musical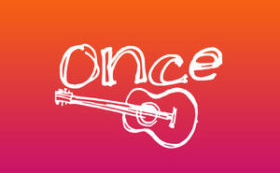 'Once' is a realistic, romantic musical that acts as a love letter to modern day love emphasized heavily by a adoration for music. The show is based on the 2008 movie, which was met with raving reviews and soon became a global phenomenon; winning an Academy Award for Best Original Song as well as the Independent Spirit Award for Best Foreign Film. The musical premiered on Broadway in 2012 and closed in 2015, followed by limited engagements in Dublin, the West End, as well as a North American Tour. 'Once' received similar success to its film counterpart; winning eight Tony Awards including Best Musical and Best Book. The show recently played at Theater Latté Da in northeast Minneapolis and was directed by Peter Rothstein. Theater Latté Da's heartwarming version of 'Once' received such glowing reviews that they extended their run, playing from Oct. 2 through Oct. 27.
'Once' follows Guy, a despaired street busker who is about to abandon his musical dreams and guitar on the platform of a Dublin train station. This changes in an odd twist of events, where he meets Girl, a straightforward Czechoslovakian immigrant with a talent for playing piano and secrets of her own. Over the course of six days, the two strangers meld into friends and possibly something more as they question their lives, aspirations, and what it means to fall in love.
The small stage at Theater Latté Da provides for an intimate viewing, which is accented by a set designed by Michael Hoover. Produced to mimic a hazy train station, the set acts as home to the buskers and orchestra, which includes the ten ensemble members. The characters have their own storylines that evolve over the course of the show and play instruments live on stage. The train station symbolizes the idea of a journey that doesn't have a final destination, but rather, comes and goes to fit life's twist and turns.
The music and lyrics are all written by Glen Hansard and Markéta Irglová, who played Guy and Girl in 'Once' the film. Both the orchestrations and lyrics play a crucial role throughout the musical, acting as the character's emotions when they struggle to express them themselves. The songs start slow and soft when the Girl and Guy begin to sing, and swell into full-blown, fervent blends of voices and instruments when the rest of the cast joins in. The lyrics are raw, filled with hot and heavy feelings that twist together, crescendoing into something bigger than the characters themselves.
Guy is played by Ben Bakken, a frequent face in the Minneapolis theater scene, who delves deep into his character, exposing more depth and emotions as the show wears on. Bakken's raw voice melds well with the music, bring a rough quality to the lyrics. Britta Ollmann portrays the steely Girl with a quiet strength and thick Czech accent. Due to her character's guardedness, Ollmann doesn't dive quite as deep into Girl's depth as Bakken does, but she skillfully displays Girl's inner emotional turmoil. Bakken and Ollmann's voice mesh beautifully together on many occasions, most notably during the heartbreaking ballad, 'Falling Slowly' and 'When Your Mind's Made Up'. The pair painstakingly show the orbit that Guy and Girl take around each other, spilling secrets and deep emotions over the course the six days.
Filled to the brim with love, life, and a swirl of conflicted emotions, 'Once' is a raw love letter to modern day love and music. The musical is a touching and realistic display of what it's like to fall in and out of love in today's world.
About the Contributors
Syd Pierre, Print Editor-in-Chief
Print Editor Syd Pierre loves spending time in nature,hanging out with her friends and family, and of course, her dogs. She's a big fan of the Boundary...