Edina Cinema: Hidden Gem
In thirty years, I will be surprised if movie theaters – in the way we know them today – still exist. With advancing technology, it's much easier for people to instantly stream what they want to watch at home, without having to leave the couch to go to sit in an uncomfortable chair in a cold theater. Additionally, with the rise of Netflix, which has made it possible to binge watch entire series, theaters (and quite frankly, possibly movies) will become obsolete.
Even now, theaters don't hold the same nostalgia that they used to, and teenagers only go to the movies to see huge Hollywood, multi million dollar films. What most don't know, is that Edina has a hidden gem that deserves much more attention than it gets: the Edina Cinema. Attending a movie at this theater is a must experience for every Edina resident – especially before theaters are memories of the past.
Located on 50th and France, this overlooked theater among high school students, shows quality independent and foreign films. Although small, and a little outdated, the Edina Cinema reminds all who enter of the glory of films from an era long gone. Instead of being greeted by commercialized, money sucking, corporate giants, the Edina Cinema offers a quiet atmosphere, an 80s carpet, and a modest snack bar.
Not only is the environment uplifting for all movie lovers, but many of the films at the Edina Cinema are phenomenal. If you don't see it at the Edina Cinema, chances are, you probably will never see it. The Edina Cinema isn't known for showing mainstream films. The independent films bring new artistic license that completely outshine the monotonous story lines of top box office movies. The films profile other cultures from around the world, and highlight the refreshing differences between American films and European and Latin American films. Additionally, the storylines usually illuminate real world scenarios, which make them all the more relatable.  If this praise seems over inflated, believe the critiques. More often than not, a majority of its films rank 80% and higher on Rotten Tomatoes – a feat that even the top grossing movies cannot achieve at once.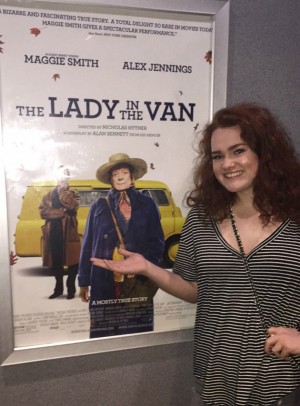 For example, in the last couple of weeks, the Edina Cinema has shown English Film "The Lady in the Van" which received raving reviews and 95% on Rotten Tomatoes. It also showed a  co-produced film by France, Chzech Republic, and Belgium called "Marguerite" which received eleven nominations for the 41st Cesar awards where it won best actress, best costume design, best sound, and best production design. Two other films, "Born to Be Blue"  and "Hello, my Name is Doris" are currently being played at the theater, and may be worth your while.  
If you are someone who even somewhat enjoys watching movies, the Edina Cinema should be at the top of your bucket list. When the lineup at AMC is unappealing and repetitive, just give the Edina Cinema a shot – you won't regret it.