New EHS classes promise creativity and opportunity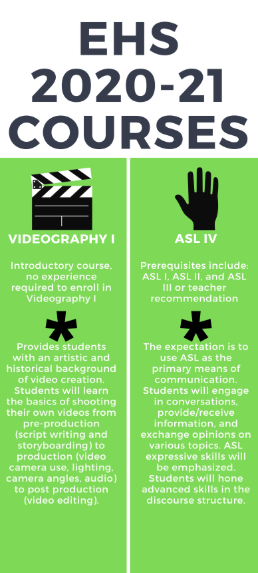 As Edina High School students begin to sign up for classes during the 2020-2021 school year, the district recently released two new course options: American Sign Language IV and Video Production I.
The new American Sign Language IV course allows students to expand their language knowledge and proficiency, focusing on fluency and nuanced expression. Previous courses have generally been taught in both English and ASL; this course is primarily taught in full ASL, a more challenging requirement than previously required. The prerequisites for the course are ASL III or a teacher recommendation, as it is an advanced curriculum meant for near-fluency. 
The new Video Production course taught by Ellen Raskin is "an introductory course designed to provide students with an artistic and historical background of video creation" according to the class description. No previous videography experience is required to take the course, so any student with an interest in the subject is encouraged to enroll. Students will partake in a number of projects that detail the filming, directing, editing, and post-production process, giving them an inside look into the making of a film. 
The district hopes that the implementation of this class builds upon students' willingness and interest in video and content creation. "We wanted to give students the opportunity to create more professional-looking videos, or at least give them exposure to more tools and resources besides what they are already using," Raskin said.
Some courses, such as Blended Economics, utilize the same curriculum through a  different method of teaching. It combines online courses with in-person instruction to allow for a more personalized learning experience. All courses mark an expansion in enrichment and engagement as the administration allocates resources towards new courses and opportunities.