Keep spring sports in the spring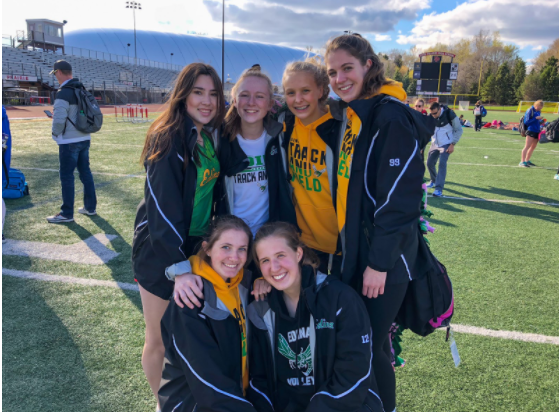 The rise of COVID-19 caused unprecedented ripple effects across the globe. For America's youth, it meant missed class time, cancelled milestone events, and disconnection from human interaction with friends. Recently, the Minnesota State High School League (MSHSL)— a non-profit voluntary organization which arranges athletic and other extracurricular programs in its member schools across the state—was faced with tough decisions about the upcoming fall sports season. Ultimately, they voted on August 4th to move football and volleyball (traditional fall sports) back to the spring, and push back traditional spring sports into a new summer season. This plan is not only problematic logistically but furthers the equity gap between athletes—an issue which MSHSL claims to work against.
Most notably, this schedule change caused a logistical nightmare. Many volleyball players participate in winter club seasons from roughly November to June after their high school seasons. By moving the high school season, both clubs and players must make a difficult choice: will the club season stop for a few months for the high school season, or will each player have to choose? What about athletes who play club, but get cut from their high school team in the spring—will they have options for training or will they have two months off? Additionally, the new summer season interferes with club seasons for spring sports, such as baseball and lacrosse. Does this mean that the club season will be shortened, or will players also be forced to decide between the experience of a high school team or the rigor of a club team? 
Not only does the new season disrupt club seasons, but by squeezing the seasons so close to each other, football post-season becomes complicated. Fall sports, as of now, still have plans to hold altered state tournaments—will football playoffs force other sports to practice in alternative places while using school facilities past the dedicated season? Will football players who choose to play a spring sport be forced to miss out on the beginning of their spring season?
One reason for the added summer season was to allow athletes to participate in both spring and fall sports if desired, yet once examined more closely this reasoning does not hold up. Volleyball and football hold practices throughout the summer to prepare for the fall season, which would conflict with the new summer season. Athletes who are serious about fall sports will be forced to choose between a spring sport or training to prepare for tryouts in the fall. Although both participating in a spring sport and training for a fall sport is possible, it raises concerns over how hard high school athletes should be pushed, and if it is healthy for them to be spending a large amount of time and energy training for multiple sports simultaneously. 
The creation of an entirely new high school sports season is unprecedented and involves coordinating new venues for competitions, hiring referees and officials willing to work past the traditional end of season, and disrupting coaches' schedules as well. Asking coaches and officials to rearrange their schedules causes further unnecessary disruption during the COVID-19 pandemic. We all have been forced to adapt to a new normal through hybrid school and altered work environments, but creating a new summer season causes unneeded stress and logistical issues. 
Additionally, moving high risk sports further into the future does not solve the issue of safety for the players. Why should all the time and planning be put into a new season when a vaccine is not yet confirmed to be available this spring? Volleyball and football could still be just as high risk in their new spring season as they were during the fall—perhaps even more so because of more exposure with peers at school as compared to the current fall season, which began after extended quarantine and online school. The severe disruption of spring sports—for now the second year in a row—should not be justified based on hopes of a vaccine and safer environments for COVID-19 in the new spring season. The majority of spring sports are individually based, and thus have a greater potential to safely socially distance and follow state guidelines than the team-focused sports of volleyball and football. 
As busy high schoolers, many athletes have many other commitments in the summer which would cause them to miss out on sports. During the school year, numerous elementary schools provide after school child-care, which is often less expensive and more convenient than summer care. For families unable to afford child care during the summer, many high schoolers would be forced to sacrifice their sports season in order to care for younger siblings while their parents work full-time. High school is also the time when many students begin working, especially over the summer. Students without guaranteed financial security for college spend long hours over the summer saving for college and possibly even supporting their families as well. Pushing spring sports back will force some athletes to decide between saving for college and their spring sport.
And, as a disappointed senior who was looking forward to being a track captain for the 2021 spring track season, I would like to express my thoughts on the matter more bluntly. Spring sports were cancelled after a week in the 2020 season. Yes, COVID-19 was new and we were all uncertain of its effects, yet it seems that once again spring sports are being thrown under the bus in 2021. It's just the unfortunate reality that MSHSL cannot please everyone, and if they truly prioritize the safety of their athletes, they would have cancelled football and volleyball due to their high risk and used the time being spent on creating a new season into making the traditional seasons as safe as possible for athletes. 
I am calling on the MSHSL Board to reconsider their vote on creating a new summer season. Think of your own high school sports experience, and how you would feel if two seasons (half of your high school career) were disrupted. Think about the safety of the athletes who you volunteer to serve. Please don't take away another spring season which many athletes have been looking forward to since cancellations earlier this year as a bright spot in an otherwise disappointing school year.