He Shoots, He Scores
Sophomore Walt McGrory is helping to lead the basketball team to victory this season.
Sophomore Walt McGrory is somewhat of a legend around Edina High School. If you haven't already heard of him, he is the starting point guard for the boy's varsity basketball team. Despite being a sophomore, he is one of the more experienced players as he made the team in eighth grade.
McGrory's passion for basketball started at an early age. "I've played organized basketball since kindergarten," he said.
His dedication to basketball has truly paid off. McGrory scored the winning basket on Jan. 30th against Minnetonka.  "It was awesome just to get that win because we've been so close to pulling off big wins this year, and they've slipped away," said McGrory.
Before this jaw-dropping game, McGrory went through his usual pre-game routine. "I like to eat Noodles a couple hours before the game, and get some shots up before we go out. And Burls [sic] plays music on his little speaker in the locker room before the games."
McGrory has high hopes for the team's future. "Win the rest of our conference games, and with the team we have this year, I think we can make a run in sections and get to state," said McGrory.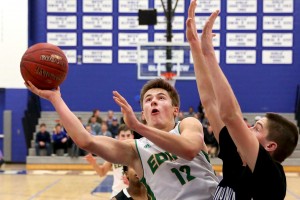 The basketball team has gained a lot of popularity this year. They now have superfans, and their games have a much higher attendance rate. However, McGrory's favorite part about being on the team is "to play basketball everyday with [the] team, especially with the guys on the team this year. Plus the support we've had from students this season has been awesome."
McGrory's hard work and athleticism is a strong combination that makes him a vital asset to the basketball team. He will continue to do big things in the future. Catch the next basketball game Tuesday, Feb. 17th at 7 pm at the Edina Community Center.
Leave a Comment
About the Contributors
Madeline Marker, sports editor
Madeline Marker has accomplished many things in her 16 years of life. Her lengthy list includes but is not limited to being a band dropout, finishing 84th...