EHS Volleyball works to rebuild legacy in 2019 season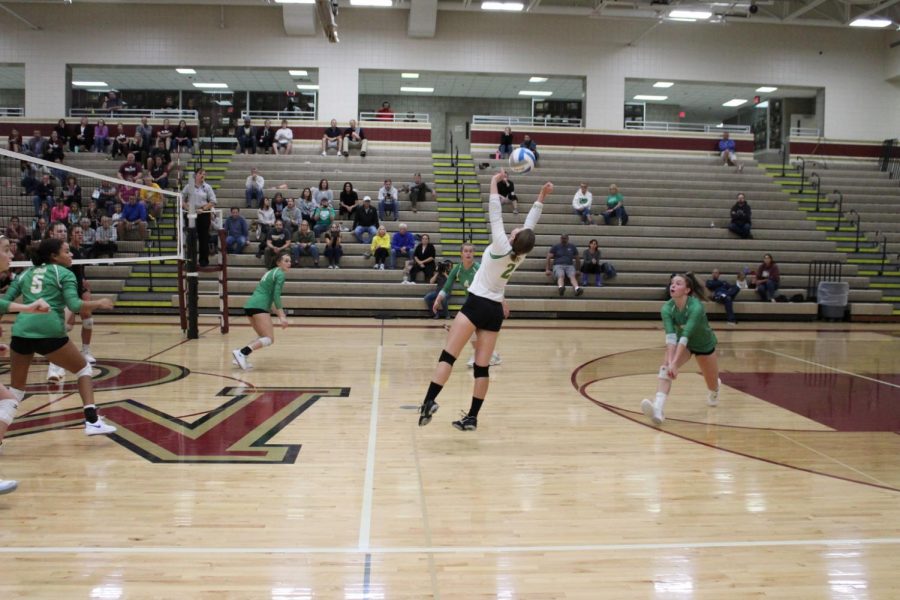 After making it to the State tournament last year, Edina Girls' Volleyball has high expectations to live up to this season. However, they had to redirect their focus after losing seven starting players with last year's graduating class. With a large amount of new players and a larger team, the program's main goal this season is to rebuild its' legacy. 
A part of rebuilding the legacy is choosing captains. Sophomore Sarah Bohrer was appointed to be a junior captain this year and has been in the program since 7th grade when she played on the 9B team. Since then, Bohrer has been playing on Junior Varsity and Varsity as a libero/defensive specialist. 
Going to State has always been a goal for the volleyball team, and last year's success motivated the team this year to go to state again. "It lets us know what we're capable of achieving," Bohrer said. It was also an exciting experience for Bohrer because she and her older sister, Alaina Bohrer, were both on the Varsity team. Now that the seniors have graduated along with the rest of the class of 2019, Bohrer says that the team had to adjust. Not only are they missing a lot of skills, but height as well, which caused players to switch positions and accept new responsibilities. Because of this, the team is bigger than usual, allowing for more flexibility and experimentation with new positions. 
Along with being on Varsity, Bohrer is also new to being a junior captain. Just like a regular captain, being a junior captain shows player dedication and respect from peers and coaches. However, a junior captain holds a different significance compared to a regular captain, as Bohrer represents the underclassmen. Some responsibilities of being a junior captain include helping out the captains⁠—seniors Kat Warpinski and Grace Hammerski⁠—with daily tasks, helping out freshmen if they have any questions, and being a role model. "I've gotten closer to the volleyball players, especially the freshmen, which is really cool". 
Another new addition to the Varsity team is freshman Tessa Dubbe. Dubbe has been in the program since 8th grade and has had a great experience so far playing outside hitter. "My team has been so welcoming, they have all been so nice and friendly to me, which makes playing volleyball way more fun," Dubbe said. Dubbe's focuses have shifted since last year due to her constant quest for improvement. Last year, when Dubbe was on B-Squad, her goal was to just have playing time; now that she's made it onto Varsity, she wants to continue improving her game. 
Along with hard work, Dubbe's dedication to volleyball shows during year-round playing. Dubbe started playing for a new club, Vital, this past season, and "owes a ton of her success towards her coaches and teammates at Vital," says Dubbe. Having watched the team play at State last year, Dubbe wants to make it to State again so that she can be involved in the Edina Volleyball legacy. If the team keeps working and showing dedication, Dubbe might have her wish come true. 
Even though state was an amazing experience, it was also an expensive experience. It was a lot of money to pay for supplies that would support the team. In order to regain funding for the program this year, there have been many fundraisers. Some of the fundraisers include selling Papa Murphy's cards, hosting a VEAP drive, and bagging at Jerry's. 
There's plenty of talent to go around with five seniors, three juniors, three sophomores, and three freshmen making up the roster this year. All of these players will help become apart of building a strong and exciting team that will create a legacy for years to come.
About the Contributors
Sadie Roy, Staff Writer
Sadie Roy, a sophomore Staff Writer at Edina, enjoys playing volleyball, ultimate frisbee, and soccer. In her free time, she loves to spend time with her...
Sophie Charnell, Photographer
When she's not binging Grey's Anatomy for the third time, Sophie is most likely taking photos of everything in sight. She has a tendency to get sick...