Edina's Mosaic Club Holds Second Annual Unity Walk
On Thursday, May 17, Mosaic club hosted its second annual Unity Walk. During this eight-block march, Edina High School students, parents, and community members walked together to advocate for unity in the face of recent divisions and polarization at EHS and in Edina.
The Mosaic Club started in January of last year and was founded with the goal of representing students from all walks of life at EHS. They chose the name Mosaic because it symbolized their goal of making many "pieces" into one cohesive whole. They organized the first Unity Walk last spring. Members of Mosaic were excited to host the walk for the second year. As they walked, representatives of the club held a banner emblazoned with  EHS Creed: "We, as members of the Edina High School Community, will uphold equity, empathy, and respect for race, religion, gender, sexuality, and ability. Together, we will strive to create a socially just environment in our community every single day."
Hundreds of people gathered for the walk this year, enjoying a beautiful day while sending a message that Edina is one community made out of thousands of unique individuals. The 85 degree weather did not deter any of the motivated people who were determined to walk even with heavy backpacks. The energy in the air was tangible, and "a lot of people came to show support to everyone no matter what friend groups they are in or opinions they have. The atmosphere is really positive and contagious and energetic," sophomore Mosaic member Marzja Rey said.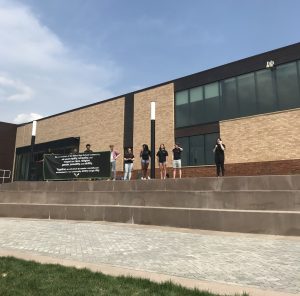 Students who are not a part of Mosaic had their own reasons to attend the walk. Some, fed up with the polarization of politics in today's society, walked to unite with students that are different from themselves. Others walked for their own reason or to support a specific cause. "[The Unity Walk] means being able to come together and celebrate our differences. I'm mainly walking for Hornet Connections. We are here with Unified Olympics and Pacer Center. It's really exciting," junior Mae Mironer said.
Parents and other community members were just as excited and determined to show a unified front as the students were. "For me, it's about all rallying together as a community to support all of our families, all of our students, all of our learners of different backgrounds, different cultures, and different places in celebrating life," parent Angella McGarvey said.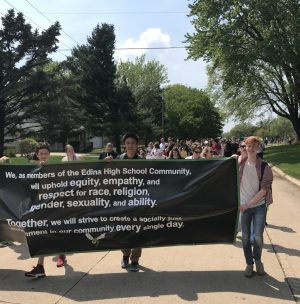 Even though the walk was about unity, the student body as a whole was not completely on the same page about whether participating in the walk was worth missing study time. Some students argued that the walk would not change the polarized culture in EHS, or did not want to go out in the hot weather. Others left school early since the walk was after many upperclassmen went home for Flex block, or stayed back to study. "I have an AP test tomorrow so I'm going to go home and study for that," junior Emma Berdelman.
Even though not everyone walked, the hundreds of people who attended the Unity Walk show that many in Edina are committed to moving towards a unified community.