Edina's Mosaic Club Holds Second Annual Unity Walk
Hang on for a minute...we're trying to find some more stories you might like.
On Thursday, May 17, Mosaic club hosted its second annual Unity Walk. During this eight-block march, Edina High School students, parents, and community members walked together to advocate for unity in the face of recent divisions and polarization at EHS and in Edina.
The Mosaic Club started in January of last year and was founded with the goal of representing students from all walks of life at EHS. They chose the name Mosaic because it symbolized their goal of making many "pieces" into one cohesive whole. They organized the first Unity Walk last spring. Members of Mosaic were excited to host the walk for the second year. As they walked, representatives of the club held a banner emblazoned with  EHS Creed: "We, as members of the Edina High School Community, will uphold equity, empathy, and respect for race, religion, gender, sexuality, and ability. Together, we will strive to create a socially just environment in our community every single day."
Hundreds of people gathered for the walk this year, enjoying a beautiful day while sending a message that Edina is one community made out of thousands of unique individuals. The 85 degree weather did not deter any of the motivated people who were determined to walk even with heavy backpacks. The energy in the air was tangible, and "a lot of people came to show support to everyone no matter what friend groups they are in or opinions they have. The atmosphere is really positive and contagious and energetic," sophomore Mosaic member Marzja Rey said.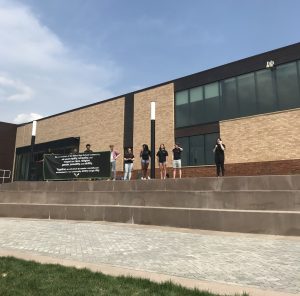 Students who are not a part of Mosaic had their own reasons to attend the walk. Some, fed up with the polarization of politics in today's society, walked to unite with students that are different from themselves. Others walked for their own reason or to support a specific cause. "[The Unity Walk] means being able to come together and celebrate our differences. I'm mainly walking for Hornet Connections. We are here with Unified Olympics and Pacer Center. It's really exciting," junior Mae Mironer said.
Parents and other community members were just as excited and determined to show a unified front as the students were. "For me, it's about all rallying together as a community to support all of our families, all of our students, all of our learners of different backgrounds, different cultures, and different places in celebrating life," parent Angella McGarvey said.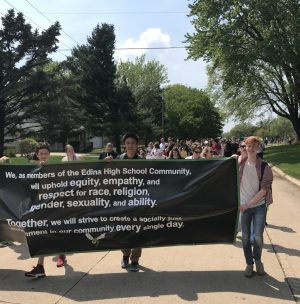 Even though the walk was about unity, the student body as a whole was not completely on the same page about whether participating in the walk was worth missing study time. Some students argued that the walk would not change the polarized culture in EHS, or did not want to go out in the hot weather. Others left school early since the walk was after many upperclassmen went home for Flex block, or stayed back to study. "I have an AP test tomorrow so I'm going to go home and study for that," junior Emma Berdelman.
Even though not everyone walked, the hundreds of people who attended the Unity Walk show that many in Edina are committed to moving towards a unified community.

About the Contributors
Eva Hadjiyanis, copy editor
Eva Hadjiyanis isn't your average junior that's outgoing, smart at math, and a band geek, because she has the most crazy obsession with Harry Potter and isn't afraid to show it. In fact, she was the first American EVER to get a letter by owl and received a wand from Ollivander personally (not the lame one you can buy at Barnes and Noble). She also prides herself in being a Hufflepuff, "who values hard work, patience, loyalty, and fair play" according to Pottermore (the website where all Harry Potter nerds hang out). Don't be surprised if she starts running through the halls bragging about it. Eva leads a busy life with not a minute to spare, living life to the fullest while letting nothing hold her back, well almost nothing. Her spirit animal is a seal, an animal of land and sea, so it makes sense that her biggest fear is airports. No, not flying, just airports. Known for her passion of reading, if Eva gets her license (provided she doesn't kill anyone in the process) her first stop will be to her local Barnes and Nobles to pick up any book she doesn't already have, if that is even possible. Also, if she knew she only had one day left to live, the last crazy thing she did before dying she said would be, "to break into the library and tear out every last page of every book."

Grace Wolf, photographer
Writing…Editing… Photography… Art. Long ago, Windigo and Zephyrus lived together in harmony. Then everything changed when Windigo attacked. Only Zephyrite seniors, master of all four elements, could stop them. But when the School needed them most, they graduated. A couple months passed and my brother and I discovered a new Zephyrite, a junior named Grace. And although her photography skills are great, she still has a lot to learn before she's ready to save anyone. But I believe Grace can save the High school… Well hello, my name is Grace Wolf and I am excited to be a photographer for my second year of Zephyrus. I have always loved photography, but I can also be found skiing, drawing, mocking, playing ukulele, acting in plays, and so much more. After I graduate I hope to become the next Avatar, I mean… earn a nursing degree. I am an avid meme collector, food eater, pokemon go player (go team mystic!!) and netflix binger. In short, I am psyched to be on staff and take some pretty cool pictures for all of you!