Breakfast Book Club Remains as a Popular EHS Staple
Edina High School offers numerous clubs to its student body. Most of them come and go with the students that create them, however, the Breakfast Book Club has been at EHS for thirteen years. AP US Literature teacher Martha Cosgrove and Media Specialist Sara Swenson began this club in order to provide students with a supportive environment to talk with their peers about the books they have read.
"The club is a great opportunity to find a community that wants to discuss books together. It also allows for an environment of discussion without having to pick a book to death," said EHS junior Tess Lydon.
The BBC reads four books a year. Earlier last week, they video chatted Kimberly McCreight, the author of "Reconstructing Amelia," the book the students just finished reading.
"[If authors are] available, we love to meet with them. Sometimes things work out, sometimes not. And sometimes, it's nice just to talk amongst ourselves," said Swenson.
The club began communicating with authors in 2005, and many years they would get one to visit. This school year however, the club will be speaking with three of the four authors over video chat.
Meeting with the author provides the students many advantages. Not only do they get to learn about the inspirations behind the story and ask questions about the plot and characters, the students are able to learn first-hand what it means to be a writer.
These books are chosen by Cosgrove and Swenson, and supplied by the club. Each member receives his or her own copy to keep. The club meets two times for every book they read. Beginning at 7:45 in the morning, the meetings consists of bagels, and "once a few people are ready, someone will bring something up and we start discussing," said Lydon.
"
Its influence in their interest in literature is far reaching.
The books are generally adult contemporary works, both fiction and non-fiction. Some of the pieces are literary whereas others are meant for fun reads. The purpose of each selection, however, is the same: to help the students discover different types of writing and help them transition to adult reading. Students are able to read the book and come to the meetings ready to have their questions answered and ideas heard. "My favorite part is discussing the book with other students and faculty that enjoy talking about books and literary questions," said junior Mara Schumacher. "[I am an] affirmed bookaholic."
The most important part of the club though is the lasting impact it has had on students. Its influence in their interest in literature is far reaching. "Some of our former book clubbers have missed the Breakfast Book Club when they went to college, so they started their own book clubs in their dorms," said Swenson.
Leave a Comment
About the Contributors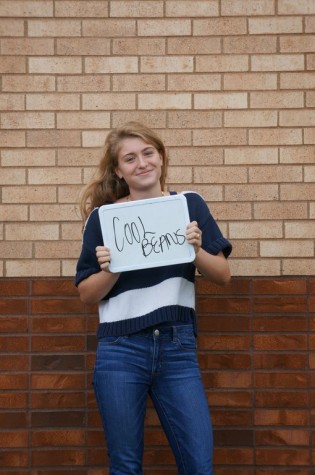 Audrey Sheehy, front page editor
Sure, you could say that she lights up the room as soon as she enters (apparently that's what her fortune cookie said…), but this opinionated, clever,...