Boys' Volleyball brings a new sport to students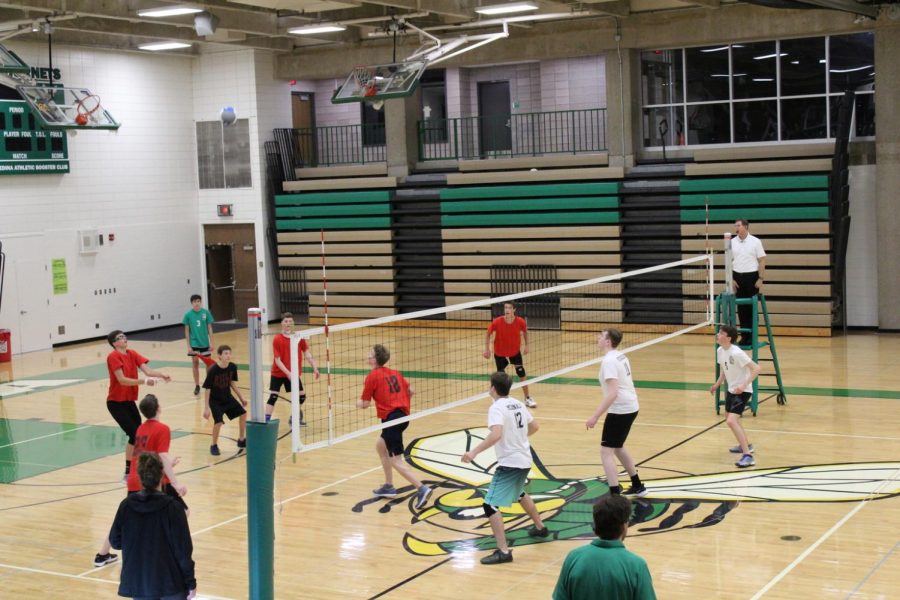 Arthur Boettge, staff writer
May 15, 2019
Due to Edina High School Girls' Volleyball's successful season last fall, volleyball is definitely on most people's radar. Even though the season ended, EHS Girls' Volleyball's fans can still see more volleyball through the creation of the new boys' club, having started just this year. "We just started this year, so it's kind of a mess right now, because no one really knows what they're doing, but it's fun; it's inclusive. We have a lot of different people from a lot of different backgrounds," senior Matt Johnson said.
The idea for the club was born when one of the referees for the girls' team, EHS science teacher Mr. Krause, suggested having a team for the boys as well. After that, the club took off. "A bunch [of] my friends were like 'why don't we do it, like just for fun and see how things go,"' junior Arthur Graham said.
With the team being so new, most of the players on it were also new to the sport. "We're all just mutually bad together," Johnson said. As all sports go, however, lots of hard work and practice can make anyone improve. "We're all absolutely getting better," Johnson said.
Senior Michael McDonald can agree. "We've all increased our vertical from (height they can jump) about 2.5 inches to 3," McDonald estimated.
Like many other EHS sports, the leaders already have plans to turn it into a varsity sport. "We have all the qualifications, but we haven't been around for more than 5 years. Therefore, MSHSL cannot quantify it as a sport. Once [it]  has been around for more than 5 years, they can make that switch into the MSHSL bracket, making it a sport," McDonald said.
In the end, the team is really just about having fun and bringing more people towards a sport that may be new to many EHS students "It requires a lot of focus. It's a craft that you definitely have to practice," Graham said.
About the Contributors
Sophie Charnell, Photographer
When she's not binging Grey's Anatomy for the third time, Sophie is most likely taking photos of everything in sight. She has a tendency to get sick...