Swept up in broomball: Student Council brings back the annual broomball tournament
On March 1, Edina High School students had the day off as teachers attended a district in-service day. The EHS Student Council decided to make the best of the opportunity and host a broomball tournament.
The event was spearheaded by juniors Bennett Dykstra and Jojo Karos. "There was a broomball tournament two years ago, and it was a big success, so we wanted to bring it back. With Powderpuff postponed until spring and the recent pepfest cancellation, we thought it would be a perfect way to bring people from each grade together," Dykstra said.
The seniors on Student Council believed it was a good way to leave a legacy. "Shea Crowley wanted to establish it as a tradition before the seniors left, so it could carry on years into the future," Karos said.
In years past, the broomball tournament was a competition between the Homecoming and Sweethearts courts. This year, however, they decided to open it up to all EHS students and the turnout did not disappoint. "There were 18 teams who competed in the broomball tournament this year," Karos said. "There were over 100 students with each grade well represented with both boys and girls. Many of who had never played before," Dykstra added.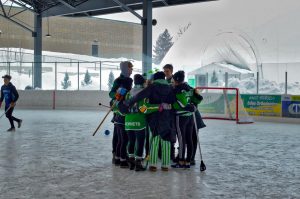 The Braemar Outdoor Rink served to be a good venue for the tournament. "There was music, two games going on at once, hot cocoa, pizza, and a fire where participants could warm up and watch," Dykstra said.
"We picked the backyard rink at Braemar because you get the outdoor feel, but with no snow," Karos added.
Dykstra and Karos were not alone in planning this event. "Thanks to the hard work of the Braemar ice crew, EHS lunch staff, and the other members of the committee, we were able to deliver a fun, action-packed event," Dykstra said.
Team Baffe won the championship, while Trent's Troopers got second place. Next year, StudCo plans to improve upon the success of the tournament. "We understand half the people only got to only play one game because it was single elimination, so we plan to institute a losers bracket next year to ensure that everyone gets to play more. We can't wait to see the tournament grow even larger over the next few years," Dykstra concluded.