Live longer with wonderful recipes from "The Blue Zones Kitchen"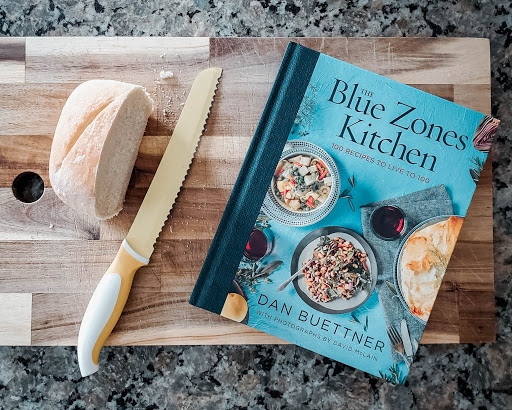 Immortality is the fantastical concept of living forever, told through fairy tales and legends. While it's obvious that with our current medical technology, living forever is just that, a fantasy, the science of aging and longevity is gaining traction among health enthusiasts. Books such as the "Longevity Paradox" by Dr. Steven R. Gundry and Dan Buettner's "The Blue Zones: 9 Lessons for Living Longer from the People who've Lived the Longest," explore science's current understanding of extending one's life span through the foods we eat.
Published in 2019, "The Blue Zones Kitchen: 100 Recipes to Live to 100" is a plant-based cookbook written by National Geographic writer Dan Buettner, outlining recipes from the so-called Blue Zones. Buettner coined the term "Blue Zones," which are five geographic areas where the inhabitants live to be over 100 years old at a much higher rate than the rest of the world. The five Blue Zones are Sardinia, Italy; Okinawa, Japan; Nicoya, Costa Rica; Ikaria, Greece; and Loma Linda, CA, United States. 
In addition to the 20 recipes from each location, the cookbook also includes pages with other information about the eating habits of the Blue Zones. Each location is introduced by a section outlining the basic philosophy and traditions of its culture and a charming profile of one local chef.  There are also pages throughout the book highlighting certain ingredients that appear in Blue Zones Recipes repeatedly. For example, pages 146-147 profile culantro coyote, a Costa Rican herb, and pages 176-177, entitled "Beans, beans, beans," feature the common diet staple from Nicoya and the other Blue Zones. Beautiful photos of people, food, and culture from National Geographic photographer David McLain also intersperse the book, providing a beautiful aesthetic backdrop to the recipes and information.
In the introduction, Buettner includes 11 tips in his section "The Blue Zones Food Guidelines."  These tips include "ensure that your diet is 90 to 100 percent plant based" and subsequent tips such as "retreat from meat," "go easy on fish," "reduce dairy," and "cut down on eggs," all of which fall under the larger category of eating a plant-based diet. Other tips include "eat a daily dose of beans," "snack on nuts," and "slash sugar," among others. At the end of the cookbook, there is a section of five two-page spreads outlining the most common ingredients used in each Blue Zones location. For experienced chefs looking to incorporate the fundamental ideas of the Blue Zones rather than to follow specific recipes, the introduction and the end of the book are perfect places to find inspiration for your next meal.
As a note, Buettner includes certain types of red wine as an ingredient from Sardinia, Italy, but as a school newspaper, we will not comment on the consumption of alcohol, either for health benefits or culturally.
For this article, I selected one recipe from each Blue Zones to test and review.
Sardinia, Italy: Minestrone Three Ways—Minestrone with Wild Fennel and Garlic
The first recipe that I tried was a minestrone soup from Sardinia. This vegetable soup is a staple in Sardinian culture, and the recipe is modified based on the availability of seasonal vegetables and personal taste. Personally, I followed the version using fennel and wild garlic, and I opted to use dried beans, although the recipe gives you the option of canned or dried. For modifications, I replaced fava beans with more of the other legumes, and I skipped the fregula pasta because I could not find either at my local grocery store. For the squash, I chose butternut squash out of the three available options.
I would consider this recipe a great success: the instructions were easy to follow and the results were delicious. For those looking to make this recipe, I recommend using canned beans rather than dried because the recipe calls for three different types of beans, each requiring a different cooking time, which complicated and lengthened the cooking experience. However, your own situation is a factor to consider as well: dry beans are cheaper but take longer to cook, whereas canned beans are more expensive but more convenient. 
If you are looking to make a staple vegetable to soup to eat as a side, this recipe is a perfect choice, and I would definitely make a version of it again, supplementing the recipe with in-season and homegrown produce when possible.
Okinawa, Japan: Three Minute Okinawa Rice Noodle Bowl
For my second recipe, I tested the three-minute rice noodle bowl, which, unfortunately, did not turn out as well as the minestrone. First of all, at my local grocery store, I could not find somen noodles and therefore used udon noodles instead. This swap brought the cooking time from three to seven minutes. Additionally, the recipe seemed underdeveloped as there were no directions for seasoning the tofu, and the only other seasoning was "a splash or two of soy sauce." 
Upon tasting this dish, I was incredibly underwhelmed, and the lack of seasoning for the tofu made me disappointed every time a piece was included in a bite. The recipe does recommend combining this recipe with others, but when I follow a recipe, I expect a fully developed idea.
That being said, upon eating leftovers the following day, I cooked a vegetable stir-fry with ingredients from the fridge—broccoli, peas, green beans, carrots, and ginger—to add to the original dish. This addition, along with plenty of sesame seeds and more soy sauce, made the meal sufficiently enjoyable. In the photos, I included both the original recipe and my own take on the dish.
Nicoya, Costa Rica: Bean Soup Three Ways—Black Bean and Potato Soup
Of all the recipes I tested for this article, this black bean and potato soup was my favorite. Again, I had to make adjustments to the ingredients based on what was available at my usual grocery store. Rather than chayote squash, I used a combination of zucchini and yellow squash, and rather than culantro, I used cilantro. I also opted to use canned black beans instead of dried.
I think that this is a great soup option for everyone to make because it is flavorful, hearty, and incredibly easy to make. Also, if you are looking to experiment with cooking dried beans for the first time, this is a great starting point because the recipe calls for only one type of bean. 
However, like some other recipes in this book, the seasoning of the dish seems underdeveloped. The recipe calls for "salt and pepper (optional)" and culantro, but I think the recipe would also benefit from spices like cumin and chili. Upon serving, I added a couple drops of lime juice to break up the robust flavor from the beans and potatoes, as well as crushed corn chips to diversify the texture. Like the minestrone soup, this recipe would be a great choice to make with supplemental seasonal and local vegetables, and I will be making a variation of it again.
Ikaria, Greece: Fennel Pot Pie
This fennel pot pie from Greece was the recipe that I was most excited for because it fell the furthest outside of my comfort zone. I followed the ingredients very closely. I also chose to make the phyllo dough homemade, but the recipe does offer the option of purchasing it pre-made from the grocery store. 
This recipe is a great introduction to homemade dough, and it was the first time I had ever made dough. While I was successful, I needed to add about ⅓ cup more water than the recipe called for to accelerate the kneading process. However, the filling of this pie was disappointing because it lacked substantial and satisfying ingredients. The ingredients of the filling were onions, leeks, scallions, carrots, and fennel, which created a light, unsatisfying meal. To combat this, I would add more hearty ingredients, such as potatoes and chickpeas. Unfortunately, I would describe this dish as an "oily, onion pie."
In the future, I would use the crust recipe and make a different filling. However, the intoxicating armona generated while sauteing the onions and leeks would lead me to definitely use those two ingredients again.
Loma Linda, California: Heavenly Grain Bowls—Hearty Barley and Kale Bowl
Like many of the recipes from Loma Linda, this grain bowl is a familiar take on healthy American food, and many readers will probably feel comfortable preparing the recipes. Along with two versions of the "Heavenly Grain Bowl," this recipe also includes the basic components and examples of each for the reader to construct their own flavor profile.
Of all the dishes I made, this was the easiest recipe to follow because it involved more assembly than cooking. I followed the ingredients exactly, and enjoyed the combinations, especially the inclusion of a date for a "salty/sweet contrast." I also enjoyed the dressing—a simple combination of equal parts olive oil and red wine vinegar—which is a classic principle you can apply to a dressing for any meal. One critique I have is that it did not mention seasoning the beans, which is a crucial step to making your meal interesting and unique.
In summary, I think that this cookbook is a great option for beginner cooks who want to learn a wide variety of principles and who feel comfortable deviating from recipes when needed. However, if you are looking for clear, exact instructions to follow, then I would pass on this book. "The Blue Zones Kitchen" also focuses on many exotic ingredients that could be inaccessible to many consumers. However, there are plenty of recipes that you can make with local, cheap, and substituted ingredients. This book's focus on the process of cooking and eating with friends and family instead of complex cooking techniques or fad diets makes it a refreshing take on a cookbook. While following these recipes will definitely not guarantee your living to 100, the look inside the traditional recipes of a few key locations is a great way to expand your cooking expertise.
About the Contributors
Reagan Stanchfield, Copy Editor
Reagan Stanchfield, senior and copy editor, has a deep love for journalism, which she hopes to develop while writing for Zephyrus. When not doing excessive...