Debut EHS Story Night is a hit among students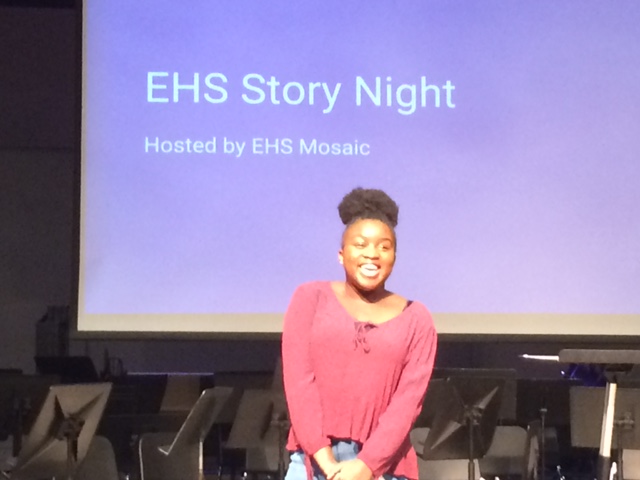 Ethelind Belle's grandmother gave chickens to all of her sixteen grandchildren…well, except for her. "To get a chicken was really…I cannot explain it to you. It was like getting presents on Christmas Day…like you were really mature enough to handle this," Belle said, prompting laughter from the audience.
Belle's story of growing up on her grandmother's farm and exploring her sense of belonging and fitting in, by never getting a chicken, was just one of many shared at Edina High School's Story Night, hosted by the EHS Student Mosaic.
Throughout the short event, over the course of just about an hour, the audience sat in sheer silence, laughed along and watched shockingly as speakers took members along on their unique experiences and stories. The most meaningful takeaway from the night was that although each story was so vastly different, ranging from a rural village in India to the EHS Track Team, all of them provided insightful lessons and ideas that without a doubt, made a lasting impact on everyone there.
Sophomore speaker Lauren Brull talked about the time her sister was in a coma, her struggle with moving on with her daily life, and finally, reeling from the aftermath of it all. Brull captivated the audience's immediate attention, and they sat in sheer awe as they listened to the heart-wrenching story. Her sister Maya had spent weeks in a coma, undergoing countless operations and leaving the rest of the family restless and unable to continue on with their daily lives. During Maya's time in a coma, Brull used to sit next to her sister, squeezing her hand and talking, hopelessly waiting for some sort of sign. "After a couple of weeks, I did get a sign," Brull said. "We were sitting and talking, I was just ranting, well, because we're sisters. Her response to me was just squeezing my hand. I completely lost it; it was a hopeful sign that things were getting better. And…well, soon they did," Brull said, wrapping off with a well-awaited happy ending.
Junior Olivia Pierce's experience with under and upperclassmen relationships prompted countless laughs from the audience. She talked about a small and sweet encounter with a senior track captain in her sophomore year, her first year at the high school. Pierce said she was foolishly awestruck and that conversation always stuck with her. "I felt like I could make friends with upperclassmen without it being this scary, huge thing," Pierce said. She tied in her experience at EHS and how that realization has allowed her to grow as a person. "Now, I'm a Link Crew leader, because I felt first-hand all you have to do is say hello to somebody in the hallway, and it can make their whole day," Pierce concluded. She ended with a new favorite habit of hers, saying "hey, how's it going" to freshmen in the hallway and watching some of their "faces light up. "
Sophomore Shreya Konkimalla ended off the evening on a memorable note. Her experience of sponsoring the education of kids in India, whom she had the chance to meet, is one that many of us will never get to experience. "As they walked into the room, I realized how small and fragile the kids were… they told me about how much they enjoyed school," Konkimalla said. She then described meeting the kids' grandfather, who graciously asked her to continue sponsoring the kids. He proceeded by doing something highly unexpected. "He shocked me by leaning down to my feet, and…touching my feet. A mark of respect that is reserved for gods at the temple." Konkimalla continued.
"I watched the frail man at my feet and I stood rooted to the spot, unable to protest, with words stuck in my throat." The experience was one that allowed her to realize everything we take for granted in our own lives, especially education, here in Edina. "Now, I see things in a new light. When my teachers teach me, I learn. When my mom lectures me, I listen. Because now…I know." Konkimalla ended.
Five of the six speakers at the first-ever Story Night were EHS students. Although at first, many were not in attendance, audience members trickled in throughout the event. Junior Phoebe Taiwo was the first speaker of the night and started off the evening with lots of excitement and a relatable connection back to Edina. "[In Edina] I was met with a certain little flair of passive-aggressiveness, that I had never really seen before. It took a real toll on my middle-school self, to the point where I changed elements of myself, to conform with what I thought would be acceptable," Taiwo said. She talked about learning to let go of the pressure around her, and, instead of becoming carbon copies of those around her, embracing her unique self. "I was getting sick and tired of picking and choosing who I was going to be in certain situations, instead of just being me," Taiwo said.
Overall, EHS Mosaic had a successful first Story Night, with lots of excitement and inspiration in the room. The organizers hope this will become a yearly event, and give all the hidden stories that EHS students carry with them through the halls, a place to be shared and heard.
About the Contributors
Dedeepya Guthikonda, Multimedia Coordinator
Dedeepya wants to live in a world filled with vanilla-scented candles, fuzzy socks, and iced caramel macchiatos. Her proudest accomplishments consist of...