Athlete Profile: Uma Corniea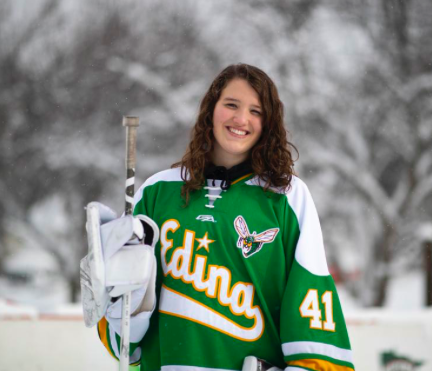 As a high school sophomore, Uma Corniea has spent more of her life playing hockey than not. An activity that has always been present in her life—as she puts it—Corneia can't remember when she first stepped foot on the ice. "I've played since I [first] started skating with my friends, and then it kind of took off from there," she said. Despite being the only one to play hockey in her family, Corneia has found enormous success in the sport she calls her "happy place." 
She spent her early years playing on a variety of club hockey teams, dubbed everything from the Penguins to the Squirts. As she entered middle school, she began playing with the boys' team at Edina, before transferring to The Breck School to play for the girls' high school team there. Since transferring back to Edina in ninth grade, Uma has been a coveted member of the Varsity Girls' Hockey team, most recently helping secure a state title this past winter season. 
Her experience playing for a variety of teams has mainly proved to be a positive one, despite the difficulties a transition can bring. Corneia has been playing with a boys' hockey team in Edina for years, mostly in the summers now, and she recognizes how they've grown to become "like family," since the second grade. "The team was way more welcoming than I ever would have expected, and it was honestly a pretty smooth transition," she said. Her experience comes with recognizing how womens' hockey is underrepresented on many levels. "Even with the challenges of playing with boys and being uncertain because I'm a girl, which I totally understand, I made the most of it and had a lot of fun," she said. 
Another transition of Corneia's was her switch from Breck to Edina in her freshman year of high school. She had always wanted to "go to a smaller school," but after realizing it wasn't for her, she decided to return to Edina. Corneia had found success in hockey at both schools; in her seventh and eighth grade years at Breck, she won the Class A State Championship. As a goalie for the Edina team, she's helped win state championships in both her freshman and sophomore years. "[The team] has such a legacy," she said, "it's just crazy that this has gone on for so long, and we've been able to continue the program at such a high level. It's just really an honor to be a part of that."  The team atmosphere is one that she values—everything from the pre-game rituals to the bonds she's been able to form with teammates. "We always have the same handshakes, and the same songs we warm up to, and everyone has their pregame drink," she said. "My teammates are always there to support me; I really appreciate that and it's a fun atmosphere to be a part of." 
Despite the challenges COVID-19 brought this year, they still ended on a successful note, and perhaps most impressively, the team did not have to quarantine once the entire season. "We all did Edina Virtual Academy (EVA) so we weren't exposed at school and took precautions not to shut down the team," she said. "Our team could [have] just shut down and we would [have been] done which is really scary for a season, but we were lucky in that aspect," she said. In addition to the challenges brought on by the unpredictability of the COVID-19 pandemic, Corneia has pushed through several injuries, including a broken foot and a torn labrum, which caused her to miss out on the beginning of this past season. However, she was soon able to get back on the ice in time for state, which she credits to Megan Armstrong, an Edina hockey coach and Physician Assistant who helped Corneia recover. 
Looking forward, Corneia is preparing for yet another transition to Princeton University, where she has been committed to play hockey since eighth grade. Playing college hockey was "always on [her] mind," and Corneia "fell in love with the whole atmosphere [of Princeton]," making it a decision that didn't come with much difficulty. "I'm really focused on using hockey to get an education," Corneia said, while recognizing how "there are many opportunities for girls' hockey that are growing, which is really inspiring." 
As of now, Corneia has her plate full with her budding hockey career, along with lacrosse and tennis, the former of which she took up this year for a new experience. While she's found success in the sport, it's her love for it that has resulted in a lasting commitment. "It's fun to be on the ice, and just be with all my teammates, it just brings me joy, and it's a really special game," she said.