SZA has fans signaling "SOS" after being starstruck by her latest album release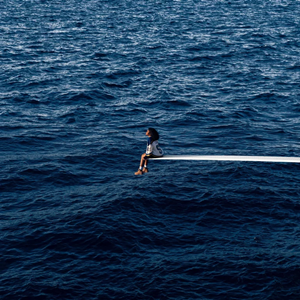 On Dec. 9 2022, after a five year and six month wait, R&B musical artist SZA finally delivered; fans received "SOS," a 23-song album to end the year. In the summer of 2017, SZA had released her second full-length album "Ctrl." Aside from occasionally releasing singles and featuring on tracks, she had yet to drop another album or EP.
SZA has established her hold in music as a sentimental but fiery spirit who traverses through life under society's definition of being feminine and a woman.
Progressing from her debut in 2014, her recognizable timbre delivers both soft melodies and stronger raps. With countless sold out shows and "Ctrl" going triple-platinum last summer, expectations ran high for the album.
"SOS" has created a similar reaction; since the week of Jan. 7, the album has remained at the first spot on the Billboard 200 for four weeks. The last artist to do so was Janet Jackson in 1993.
"SOS" surrounds the pain SZA felt from her prior relationship with an ex; on the Hot 97 radio show, SZA succinctly attributed the broad theme of the album to be "I'm pissed." However, human emotions are complicated—the first few songs blatantly show contempt for her ex, but she later goes on to lovingly reminisce about the good times they had.
The album incorporates a wide range of genres that weren't all existent in "Ctrl": pop, R&B, neo soul, hip-hop, rock, and country. Its message of wanting to be loved and going back to something that didn't work imbues relatability. Though the latter half of the album carries the same implications, it also has a few more songs that didn't float the same addictiveness to listen to.
Opening with the beeps of the "SOS'" morse code signal, the first track on the album shares the same name and signifies SZA's distress of being used by an ex-lover as she is pushed to the point of tears. Only two minutes long, the sampled rap track evokes a similar feeling to Ye's inventive work as it thrusts through a painful feeling without missing a beat.
Thanks to its fame on TikTok, the following track "Kill Bill"—fittingly named after the assassin film series—became the most popular song on the album (not including "Good Days," which has been out for two years). The track invites you to keep rewinding the laid-back and bittersweet song to follow the story: a jealous woman ends up killing her ex and his new girlfriend to ironically avoid losing control.
"Seek & Destroy" and "Low" carry the same sentiment of moving on from her ex. With its addictive melody and smooth beat, "Seek & Destroy" shows how "all the pain [she knows] is used to fuel [her] soul" and pushes her past her boundaries.
Also going viral on TikTok, "Blind" starts off with a slow, bare backtrack. The trifecta of guitar, strings, and vocals creates a feeling of flowing through water; the angelic anti-chorus sinks into an emptiness that shows the loneliness one would feel losing their sight.
In "Snooze," the album breaks off into a new direction, and SZA begins to detail the attachment she still has to her ex despite what she experienced during the relationship. Subsequent songs like "Notice Me" and "Too Late" carry a more upbeat and fun tune while exploring the feeling of her wanting to regain a close relationship with her ex.
But no album is without its faults. Appearing right after "Gone Girl," with a sensual melody and wonderfully full ending, "Smoking on my Ex Pack" is a weirdly short and sampled track that unnecessarily inflates the tracklist number from 22 to 23. While the rock song "F2F" uncovers the conflicting emotions involved in revenge sex, its heavy drums and electric guitar make the song feel extremely out of place and enters the territory of sounding corny.
Nevertheless, "Nobody Gets Me" carries a similar ambience to Taylor Swift as SZA succinctly encapsulates how she misses her ex: "no one gets me, you do." The ballad invites the listener to sway to the melody despite their vulgarity and deserved its spot at #10 on the Billboard Hot 100 following its debut.
Even though "Shirt" and "I Hate U" compensate for the near unbearableness of "Conceited" and "Special"—which was a failed attempt at synthesizing "Ctrl"'s "Supermodel," "Normal Girl," and "Drew Barrymore"—, a highly unappreciated track titled "Open Arms" features impressive vocals from Travis Scott. The soft guitar supported by the minor key reveals a sad realization of having to "let [her ex] go" to better herself, ending with a 30-second long sample of a traditional Senegalese song.
Despite the fact that the album ends with a fresh old school freestyle rap sample from Ol' Dirty Bastard in "Forgiveless," it should have culminated with "Good Days" instead; released on Christmas in 2020, the song was a beautiful present to listeners that would've ended the album with a stronger sense of finality.
Leave a Comment
About the Contributors
Carmela Cadja, Design Editor
One thought becomes two...