Robotics wins Worlds and beyond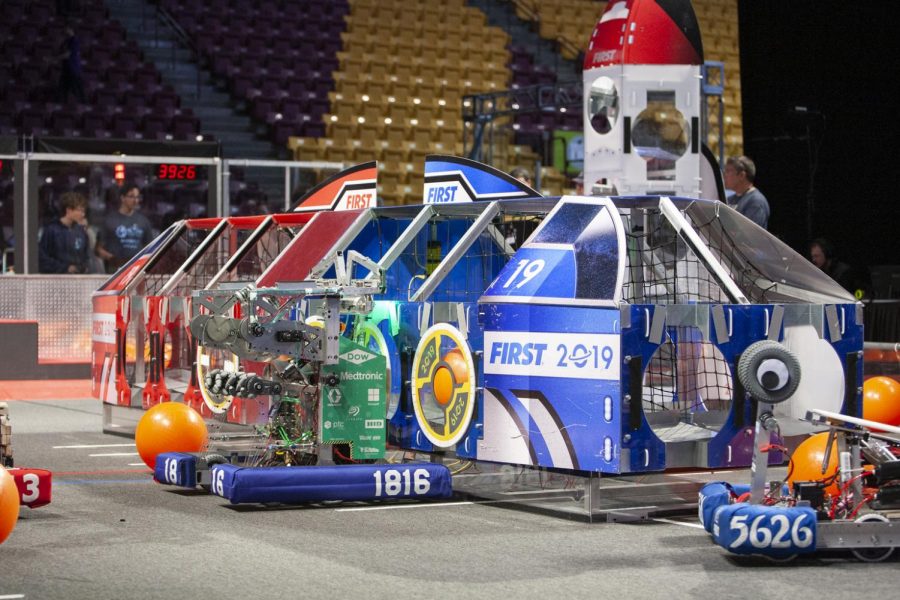 The Edina High School robotics team has had striking success this season in one of the most accomplished years in their recent history. After taking first place at the state championship, they went on to win awards at two regional tournaments. Now, having triple qualified to the world championships, they are looking to finish their season strong.
One of the factors that has contributed to their success is the recognition they have received for their evolving team culture and increased outreach. "The first regional was in Duluth. We were awarded the Chairman's award and that's awarded to the team that best exemplifies the largest culture change. It's a five year award that looks at your history of outreach," Nate Bandt, junior and outreach director, said.
At their most recent regional tournament, the team took first at the North Star competition on March 30. "This last competition [North Star], we won robot-side. So we seeded second, played through elimination matches and won the tournament," Bandt said.
There is a consensus on the team that the high quality of their robot was a fundamental contributor to their success. "Our robot this year is really good; it was really exciting to win and be recognized for that." junior Bella Boeckenstedt said.
The robot, which features impressive qualities, focuses on selectivity to be the most competitive. "Our robot this year doesn't do every game challenge, it just selected a few to be very good at. For worlds it's about how do we stick to executing things well, while still remaining competitive?" Bandt said, prior to their win.  
However, despite impressive progress this year, the ultimate culmination to their success is the chairman's award they received at the FIRST robotics competition championship on April 27 in Detroit; earning them prestige and a place in the hall of fame. The award, which is given to the team that best emulates the culture of the world championship, is the highest honor and the first ever of the award given to a team from the state of Minnesota.
Their progress was focused on a continued notion, the team must continue to improve in order to do well. Robotics is an evolving art and in order to stay on top, the team had to focus on progressing their technology and their team. "The continued iterative of process requires us to be on top of our game and make sure we are putting our best foot forwards," Bandt said.
However, the real goal of the team was to continue to work together. "There is a lot of teamwork. It's not just a tagline that everyone is essential, every one just is. Some people are on drive team, some people scout, it is all teamwork," Boeckenstedt said. Even though the robotics team has achieved unprecedented success this year, it's clear that the green machine will continue to shine bright at Edina for years to come.
About the Contributors
Kyra Bergerud, Administrative Coordinator
As a proud Ravenclaw, avid reader, and coffee addict, it is no doubt that staff writer Kyra Bergerud has a notable presence at EHS as a nerd. Hovering...