EHS Homecoming King and Queen reflect on their high school career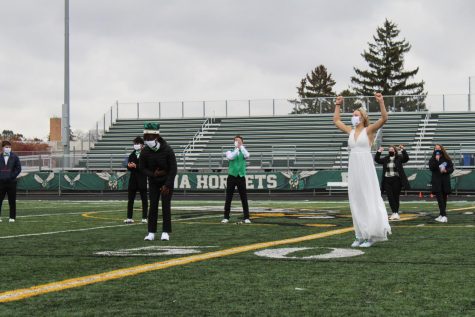 As small cannons filled with green smoke erupted at Kuhlman Field on Friday afternoon, this year's  Edina Homecoming Queen and King were announced. Seniors Kalid Ahmed and Angie Korsh took home the two crowns, officially becoming Edina High School royalty. "It means a lot to me just to be recognized by everyone in my grade as someone they can look towards, and I love everyone in the grade—I think we have a good class," Ahmed said.
The pandemic has brought many high school traditions to its knees—homecoming dances have been cancelled and several sports are postponed until further notice. As a result, the homecoming coronation was held in a socially distant outdoor arena, with all attendees wearing masks and protective gear. Though it was much different than past pep rallies, that didn't stop the homecoming court from making it something to remember. "My favorite part [of the week] was when everyone came together and we learned all the dances. I got to bond with a lot of people on court that day that I didn't know very well," Ahmed said. Korsh echoed that statement, citing the creation of the court dances as a highlight of her week.
Ahmed, a Varsity Football athlete and Model United Nations participant, looks back fondly on his junior year as a highlight of his high school career. "A good year I had was second semester junior year, when everything started to get pretty hard with the ACT and everything," Ahmed said. "It was one of my better academic years and it was nice to know that I can do anything if I put the work in."
Korsh, an Edina Student Council representative and EHS Cheer Team member, prefers the energy and excitement of football games and high school dances. "Wherever you go you can see new people and talk to everyone there, you can really see the community," Korsh said. However, the EHS community extends beyond students—Korsh found that she was able to rely upon teachers and faculty throughout her time at Edina.
Whether it was giving leniency on a late assignment or providing emotional support during challenging times, teachers and faculty members helped the queen and king manage any difficulties that arose throughout their time at EHS. "Someone who's really helped me a lot throughout my high school experience has been Jenn Carter," Korsh said. "She's always been there for me and involved in my life. She helped me to succeed even when I was going through really tough times in high school." Both Korsh and Ahmed credit EHS teachers as part of their academic and personal influences. "I've had a lot of good teachers. One teacher that I really enjoyed was Ms. Mathers. She's really sweet and I felt really connected to her," Ahmed said. 
To any underclassmen at EHS, both Ahmed and Korsh echo the same sentiment. "Just enjoy it. It felt like a month ago that I was a freshman and now I'm already a senior. I'd tell myself to enjoy it and soak it all in," Ahmed said.