Edina Varsity Softball fosters camaraderie and success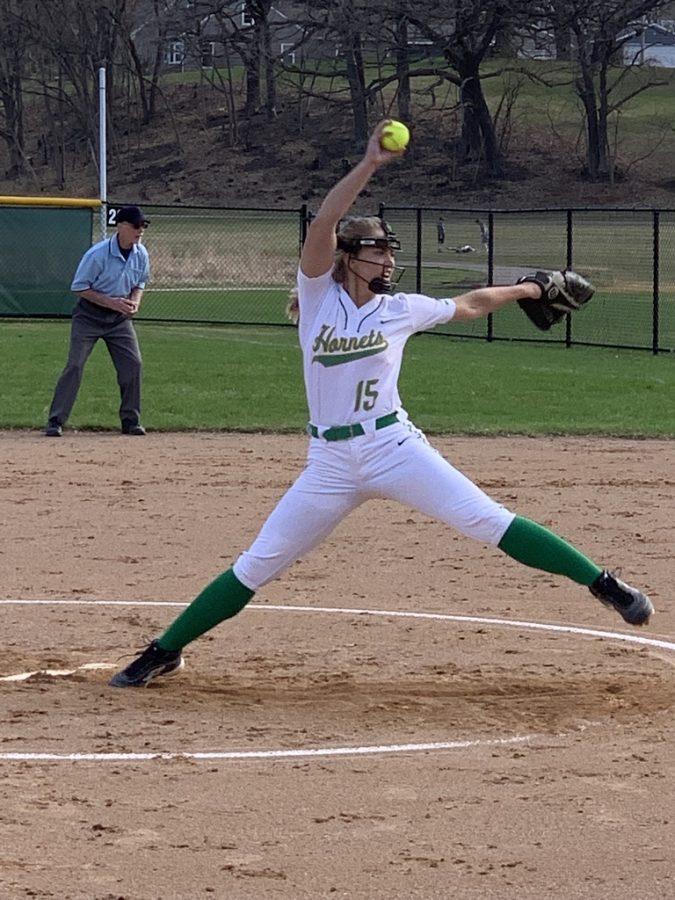 Edina Varsity Softball has gained attention this past year due to their participation in the 2018 state tournament, marking Edina's first time at the tournament in 30 years. Keith Johnson, the varsity head coach of four years, is working to improve the team in order to maintain these achievements. Current players, including sophomore pitcher Genevieve Ovsak and center fielder and captain Alison May, are using Johnson's coaching techniques to enhance their skills and maintain the team's forward momentum.
The journey to state was a highlight in Ovsak's Edina Softball career. "Even though we ended up not doing that well there, it was just so exciting to make it there and to do all the things that we'd heard about and say that it was our experience," Ovsak said.
In addition to team accomplishments, Edina's Varsity Softball team gives its players an opportunity for recognition on a individual basis. Ovsak was recently featured 84th in FloSoftball's top 100 list for the national class of 2021. "Minnesota players generally stay in the midwest bubble. It's just so hard to get out there, and it's hard to get seen by those top people," Ovsak said. May also gained recognition when she was awarded all-conference, a recognition for outstanding athletes in the sport, as a sophomore.
Both Ovsak and May acquired an early start to their softball career after being exposed to the sport by their families. "I've been playing softball since I was six [years old] because my sister used to play and I would go to her lessons; it really just made me want to join because of how cool she looked doing it," Ovsak said. "My brothers played baseball and my dad really liked baseball," May said. She then chose to play softball in Edina's league before joining high school softball in seventh grade.
Ovsak also played on advanced teams when she was young. "I had been playing [on the 14 & under team] since I was 11 [years old] because they needed a pitcher, and then when I was 12 [years old], I moved on to the A team," Ovsak said.
Behind the glory of success comes endless hours of practice and training. Edina Varsity Softball, just like many other high school sports, has practice for two hours every day during the week. However, players explain that expectations are that they continue training independently during the offseason. Both Ovsak and May quit other sports in order to dedicate more time to softball and additional training.
Ovsak quit basketball in elementary school and later volleyball in middle school after she began to excel in softball and develop injuries from the intensive shoulder movements required in volleyball. Despite the sacrifices she's made, Ovsak revealed, "I wouldn't change it for the world because I've had so many amazing experiences in softball and it's taught me so much."
She has also focused on securing a future in softball and the attention of universities. "I have been in the recruiting process since I was 11, which is when I started going to camps to try to get myself seen by colleges," Ovsak said. May also prioritizes softball in her life over other sports and social activities.
Despite these sacrifices, both players are pursuing softball after high school. Ovsak is verbally committed to playing for Syracuse University. However, a rule change has impacted the certainty of her future playing for them. "For softball, you can't talk to a coach about recruiting at all until September first of your junior year," Ovsak said. Therefore, as a sophomore, she is unable to contact Syracuse University about committing to play for them in the future. "On September first any college can also call me, so it will be interesting to see whom I've unintentionally caught the eye of," Ovsak said. May will be playing at Ithaca University in New York.
May uses her position as a captain to inspire other players to achieve and improve their softball techniques. "I think it helps to have the captains each year do captains' practices and get people going again and excited for the season." She and the other captains are also responsible for organizing "team-bonding… and fun little [activities]," and they "motivate [the players] for pre-game."
Additionally, May has had the privilege to see the growth in other players from the perspective of a captain. "My proudest moment was seeing some of the players that weren't as great as they thought they could be and then they worked hard the whole season and then did really well and helped the team out," May said.
During his twelve years of coaching experience, Johnson has observed that the key to improvement in softball is the attitude of players regarding the game. "You have to be competitive. If you have good softball IQ, along with those skills, you can be a good softball player. You have to be willing to learn and laugh at your mistakes," Johnson said.  
Johnson has also witnessed the growth in the team during his four years as the coach. "My proudest moment would be just seeing how the program has evolved since I have taken over the program. We've been more competitive," Johnson said.
Coach Johnson contends that "team chemistry" is the greatest tool for the softball team's success and growth. "We have to come together as one and work towards our main objective. I learn from them; they learn from me," Johnson said.
About the Contributors
Reagan Stanchfield, Page Editor
Reagan Stanchfield, a junior and page editor, has a deep love for journalism, which she hopes to develop while writing for Zephyrus. When not doing excessive...