Best Brunches in the Twin Cities
Brunch – that beloved weekend celebration of the best of breakfast and lunch – is arguably one of the best meals of the day. To truly appreciate brunch, you should eat it at the best places possible. Here are a few suggestions:
Turtle Bread Company: A great restaurant in general, Turtle Bread always serves quality brunch food. They have homemade danishes, croissants, muffins, scones, and other breakfast favorites. The bakers begin making their famous bread during the middle of the night, so the loaves – sourdough, chocolate bread, and other varieties – are hot the next morning. They also serve classic breakfast items such as quiche, and lunch foods such as soups, salads, or sandwiches. Turtle Bread Company, 3421 W 44th St., Minneapolis, MN 55410
The Good Day Café: A little bit more expensive than Turtle Bread, The Good Day Café doesn't have a set time for when certain foods have to be ordered, so you can order lunch food for breakfast or breakfast food for lunch. They have a wide variety of delicious options, from omelettes and pancakes to salads and sandwiches. The Good Day Café, 5410 Wayzata Blvd, Golden Valley, MN 55416
Zumbro Café: This popular Linden Hills restaurant's breakfast foods include eggs benedict, huevos rancheros, French toast, Belgian waffles, and your typical flapjacks. Their lunch menu includes soups, salads, and hot lunches like a turkey club or steak and eggs. The lunch and breakfast foods are both available all day on the weekends, but during the week they have set times and separate menus. Zumbro Café, 2803 W 43rd St, Minneapolis, MN 55410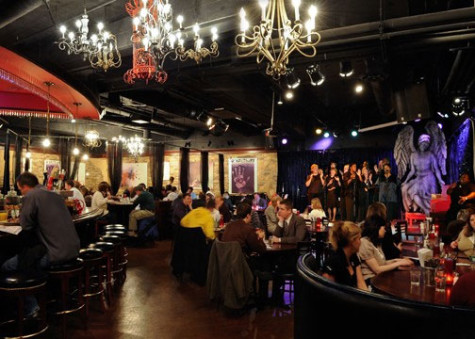 Hell's Kitchen: This restaurant is a bit on the wild side when it comes to menu options. They offer a wide variety of choices such as their Mahnomin porridge which is wild rice with hazelnuts, cranberries, and blueberries covered in a mixture of maple syrup and cream. They are also known for their quarter-pound pecan-caramel rolls as well as their bison sausage bread. Their homemade peanut butter is another popular item. Hell's Kitchen, 80 S. Ninth St, Minneapolis, MN 55402
Colossal Café: This restaurant has an ironic name as their store in Minneapolis is about the size of a bedroom. Colossal Café has almost any item you could want. Their most popular breakfast item are their flappers and their house specialty – a yeast based pancake that comes with powdered sugar and real maple syrup. They also offer breakfast sandwiches, eggs, bacon, and oatmeal. They have a wide variety of lunch options as well such as soups, salads, and sandwiches. They have two locations: 1839 E. Colossal Café, 42nd St, Minneapolis, MN 55407 and 2315 Como Avenue, St. Paul, MN 55108
Sun Street Breads: This is another restaurant known for its delicious breads and classic menu items with a twist. The breads range from your classic baguette to their Apple of My Eye Rye and other varieties. They also have several pastry options like turnovers, scones, brownies, and Crusher Cookie – a favorite. For breakfast, they have biscuit sandwiches like the southern fried biscuit which is a biscuit with fried chicken and bacon with sausage gravy. They also serve sourdough flapjacks and Dogwood coffee. Their lunch menu has sandwiches inspired from different parts of the United States, including a  sandwich that has pulled porketta (herb-roasted pork), fennel slaw, and arugula on a hoagie roll. They also serve two soups of the day each day, and always serve The Berkeley salad which is a giant bowl of greens with vegetable side salads, pickled salads, and slaws. Sun Street Breads, 4600 Nicollet Ave S, Minneapolis, MN
Leave a Comment
About the Contributors
Madeline Marker, sports editor
Madeline Marker has accomplished many things in her 16 years of life. Her lengthy list includes but is not limited to being a band dropout, finishing 84th...