The COVID-19 timeline: how Minnesota is dealing with a pandemic
During a press conference on Friday, March 13, Governor Tim Walz announced that Minnesota schools were to remain open with around a dozen cases statewide. Slowly, the number of reported COVID-19 cases began to increase—nearly tripling from 13 to 35 in a 24 hour period. In response, Walz held another press conference on Sunday; this time, he'd be closing schools for two weeks to prepare for the possibility of extended e-Learning (online schooling). His statement mandated the entirety of Minnesota schools to close from March 18 until March 30. March 16 and 17, he said, would be used to prepare for these unplanned closures.
Minnetonka, Wayzata, and Eden Prairie all decided to close their facilities this Monday and Tuesday, directly after Walz's announcement. The Edina Public School District followed suit with the administration sending out an official email Sunday evening. Edina High School would use Monday as a teacher training day, and Tuesday as a day for students to collect necessary resources. A number of teachers were prematurely checking out books and resources even before the long weekend, in the event that a cancellation would shift the weekly schedule.
As of right now, EHS is planning to re-open on March 30 and begin regular in-classroom activities. Should an extended closure occur, Principal Andy Beaton is preparing for the possibilities of an e-Learning initiative after Spring Break, which was stated in a district-wide email. 
For some students, the closure means that they will no longer have access to daily meals or resources. This was heavily weighed in the decision, as stated by Walz. The US Congress is currently debating relief bills that would provide federal funding for families who have been affected by job displacement, similar to a Universal Basic Income. The Senate just approved the US House bill which specifically allows for a paid sick leave program, which would ensure families receive their paycheck for the time they are under quarantine. 
Zephyrus recommends those affected to reference this list of resources located in the Metro Area, aimed at providing financial relief and free meals to those who need it. The Edina Give and Go fund is coordinating with ChartWells to ensure that EHS students get the food they normally would at school, along with the Edina Meal Fund.
Given the developments and quick expansion of COVID-19, most professionals agree that practicing social distancing is the best way to prevent the spread. Self-quarantine and limiting contact with others will "break the chain," as many doctors are calling it, of contagion and infection. On Monday, March 16, Walz mandated the closure of all restaurants and other public facilities because many individuals are not partaking in this practice. The governor and the Minnesota Department of Health feels that this measure will remain productive in countering the spread of COVID-19.
In the meantime, the state is working to increase the availability of testing within Minnesota hospitals. Testing resources are running low with a national shortage of lab materials and 77 people infected within the state as of March 18. Local and national officials are working to make these tests more available, as a number of infected individuals were unable to receive testing earlier due to bureaucratic and need-based criteria.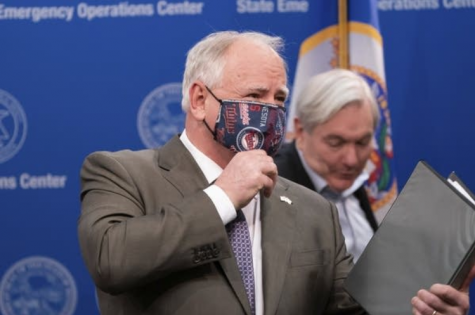 Minnesota Gov. Tim Walz announced last Thursday that he would be mandating the closure of all schools for the remainder of the spring semester. This announcement comes after other states' declarations to maintain a distance learning system alongside earlier independent closures from private education facilities. In the same press conference, Walz announced that Friday, May 1 and Monday, May 4 would be state sanctioned teacher administrative days to prepare for the next few weeks.
Most notably, Walz hasn't stated his intention to transfer all grades to a pass/fail system like other schools and states have implemented. "While I recognize distance learning is a challenge for many families, it is critical to social distancing in Minnesota and supports the health of Minnesota's families. We will continue looking for ways to improve the current system and better support our children," Walz said during Thursday's conference. The University of Minnesota adopted a pass/fail grading curve after the outbreak became more widespread in Minnesota. Many other high schools and colleges around the nation have also changed their grading system to allow for more flexibility during distance learning. 
When asked whether or not schools would re-open in the fall of 2020, Walz simply replied that he was unsure and that the state was taking the best possible measures to prevent further spreading of the virus. This comes after Walz announced his intention to test 20,000 individuals per day over the coming weeks to more accurately predict the percent of residents who are infected. As of April 27, Minnesota is reporting 3,602 confirmed cases of COVID-19.
Zephyrus will continue to closely monitor this situation and provide coverage on local, as well as national updates.