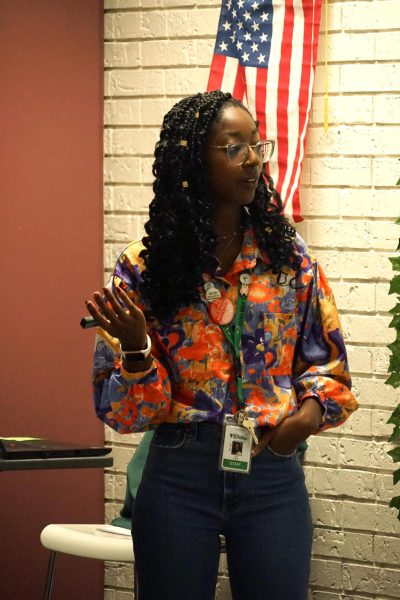 At the end of the 2022-23 school year, Edina High School was selected as one of the 60 schools to pilot the College Board's new AP African American Studies (APAAS) course. When teachers were notified of the announcement, they had a chance to indicate their interest. The first teacher to find out she would be teaching APAAS was Courtney Major. More students signed up for the course than anticipated, so they created another class that would be taught by Joy Dunna.
Before coming to EHS in the 2022-23 school year, Major taught for 21 years in St. Paul, which helped her decide she wanted to teach APAAS. "I learned very quickly that to engage such a diverse group of kids…it was really important that students see themselves reflected in the things that we're learning, that they see that their history matters," Major said. 
Similarly, Dunna, teaching for her third year at EHS, noted that it would be one of her "dream classes to teach." "We want to get to a point where one day we don't need a specific 'It's African American studies' or 'It's Indigenous studies'…but right now those stories have not had the same platform. And so this class deserves to be here," Dunna said.
Because there has never been a class like APAAS introduced before, Major emphasized the importance of the course. "AP African American Studies is more than a class. It's a shift in how to approach our thinking about history and [challenge] ourselves to do something that's different than the dominant narrative," she said. Major also acknowledged that African American history is addressed in other history classes, but not in the same way or to the same extent that APAAS can teach it. "We talk so much about systems of oppression and systemic racism, and all of those things are existent and are important [that] we address them, but where do we get to celebrate Black excellence? And not just [as] a sidebar in a textbook?" Major said. 
Although it is still early in the year, students can feel the enthusiasm their teachers have for the course and already have plenty of positive things to say. Junior Olivia Smith is taking APAAS with Dunna this semester, and she describes the atmosphere as bright. "I am looking forward to having more group projects because everyone in [the class] is really fun," Smith said. She also expressed her love for Dunna's teaching style. "[Ms. Dunna] really engages with the class. Her lessons aren't really lecture-y because she'll talk to us like we're her peers, not her students," she said.
Senior Sonja Holtey shared a similar sentiment about her History Day program teacher, Ms. Major. Holtey made it to History Day nationals, traveling to Washington, D.C., with Major to present her documentary. "I got to know her not just as a teacher but as a person outside of school. It was clear that her passion for history extended beyond the classroom; she excitedly shared fun historical facts as we visited each monument, and she quite literally read every panel at the National Museum of African American History and Culture," Holtey said. "We were there for six hours."
Major and Dunna have big goals for the future of this class. Dunna noted that the demographics of her class are mostly BIPOC, but she encourages everyone to take the course. "I truly do want the white community at Edina to also feel like this is a classroom that they can be in and a classroom that they can ask questions in," Dunna said. "It's a class for everyone." Major, who also noticed a high number of BIPOC students in her class, shares the same hope. "For me as the white teacher in the room to be like, 'I don't have the answers. This is not a culture in which I grew up in,'" Major said. "I think it's totally okay for us all to be a little bit uncomfortable when we're looking race in the face because how else are we going to continue to operate in this society and break down systems of oppression that negatively and disproportionately impact BIPOC people?"