Athlete of the Month: Emma LaFrenz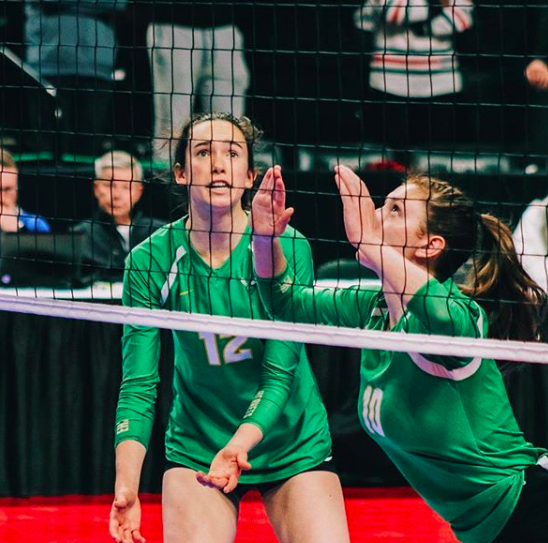 Most student athletes train year-long to become competitive in one sport. Senior Emma LaFrenz, on the other hand, plays three sports at the varsity level: volleyball, basketball, and track.  
LaFrenz finished her second season on the Girls Varsity Volleyball Team by helping the team make its first-ever appearance at the State Tournament. "Emma is such a positive asset to all of the teams she participates in. I'm so proud to have a sister who competed in the state volleyball tournament for Edina's first time ever," freshman Madeline LaFrenz said.
Emma started playing volleyball freshman year, and took up the sport quickly; standing 6 feet tall, she played middle blocker this year, which is a critical position that focuses on blocking the opponent's offense. She received the Defensive Player of the Year award for the Edina team.
Looking forward to the rest of the year, Emma will be a captain for both the basketball and the track teams. She has played basketball ever since second grade and is looking forward to another season with the team. "We have a lot of returning players, so we have a chance to build on what we did last year. It is a super fun group of people so I am excited to hang out with them for the next four months," LaFrenz said.
On the track team, LaFrenz competes in pole vault and high jump and is looking forward to being captain during her fourth year on the team. "I am excited to hopefully build a new culture and to actually be outside and see daylight. Track is just super fun," LaFrenz said.
Having three seasons of competitive sports means LaFrenz has an activity after school nearly every day of the school year. Being busy does not bother LaFrenz; she enjoys the packed schedule. "I honestly don't know what I would do with my time if I did not play sports year round. I know that I would become really bad at time management. I really like that they are so different so I don't get bored with one."