More than just security guards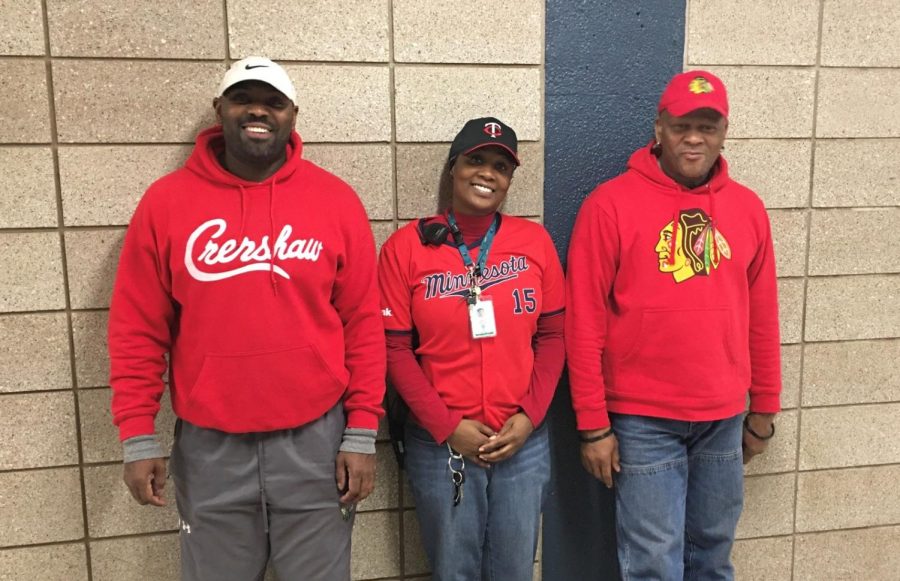 While you can almost always find them in the hallways, the duties of Edina High School's security guards Onika Craven, Tony Harmon, and Jason Griffin go well beyond the role of a hall monitor, with their primary concern being the well being of students and school security. Some of their more mundane tasks include monitoring the parking lot, hallways, and intersections around the high school. Aiding students in their personal development is what makes them unconventional in their role with the school. Combined, the three of them have a total of almost 40 years of experience at Edina Public Schools.
Harmon worked at Valley View Middle School for close to 16 years, but moved to the high school two years ago in order to coordinate the training of an effective security team with Griffin, of which Craven became a part of. The three work together to respond to situations that may arise during the school day, from helping students with special educational needs to making sure others aren't skipping class.
Forming relationships and mutual respect with students is an integral part of what allows them to manage the student body so well. "I can tell a kid 'Hey go to class', and I may not know that individual, [but] I have the respect from the students as a whole as security," Craven said.
The bond between each other needs to be strong in order to carry out their daily tasks successfully. Communication within the team is an important part of their day-to-day activities, whether it is making a daily plan or handling a difficult student. "The relationship we have, we are always communicating, because without communication, then your foundation is broken," Craven said. Part of their communication is ensuring that they are stationed at appropriate parts of the school, from the parking lot to the Edina Performing Arts Center. 
Each member plays a role in helping the team run smoothly and efficiently. Their unique styles of interaction and experience with students help them to be successful in any given situation. "Onika has a special way that I can't do… Jason has a certain way of dealing with things that I can't do and vice versa," Harmon said. 
Due to the range of students at the school, their job is one that takes heart and passion to encourage students to do the right thing. For them, it is challenging at times to be hard on students, but they feel it is an essential part of guiding students in making good choices. Some students feel intimidated by the sight of security personnel in the hallways, but the goal of the team is to impart lessons that extend beyond high school and translate into the outside world.  "If you're working with anybody, you should treat them as humans, you do it with love. Sometimes you have to be corrected, and it may not feel good in the moment. So we're looking at the long haul," Craven said.
In the end, the team is there for the students. The formation of bonds with students is what makes the team and their role unique at EHS. "We're not just [security guards]. We're counselors; we advise people, we listen. There's so much we do that people don't see behind the scenes. You have to have a right mind and right heart to do that," Harmon said.
About the Contributors
Isadora Li, Staff Writer
Isadora Li, also known as Isa to, well, everyone, is a sophomore staff writer and excited about Zephyrus only for the food every Friday. Just kidding!...