How to become your own barista
May 19, 2020
As the global COVID-19 pandemic is changing most aspects of our daily lives, we are all coping with social distancing and finishing off the school year online. Although many coffee shops are still open for pick-up and drive-through orders, any nonessential trips are risky to yourself and others. To maintain a sense of normalcy, you can become your own barista at home with easy recipes to popular drinks: hot chocolate and blended coffee.
To make hot chocolate you will need chocolate chips, milk, and a saucepan. For each cup of milk, you will need about three tablespoons of chocolate chips. Stir the chocolate chips and milk in the saucepan over medium-low heat until the chocolate chips are completely incorporated. At this point, the hot chocolate will be warm, so you can continue heating it if you prefer your drink to be hot.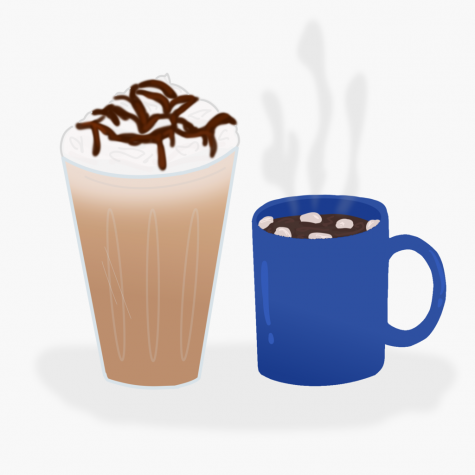 You can choose any type of milk that you prefer, including vegan nut milks. However, lower fat milks like skim or almond will be less decadent than hot chocolate made with two percent or whole milk. For the chocolate chips, you can use milk, dark, or white chocolate—any will work. You must constantly stir the pot to ensure that the chocolate chips do not burn. Also, bigger chocolate chips will take longer to melt. And finally, if you have it, you can add whipped cream and a chocolate drizzle to the top of your drink to make it a complete dessert.
The blended coffee, which is in the style of a Starbucks Frappuccino or a Caribou Cooler, will require cold coffee, ice cream, ice, sugar, and a blender. To make one serving, put a half cup of coffee, a half cup of ice cream, one tablespoon of sugar, and about a cup of ice in a blender; blend until smooth. 
While this blended coffee is delicious on its own, you can add in your own flavors to make the drink more unique. I recommend using two tablespoons of Hershey's chocolate or caramel syrup per serving, but another brand will work as well. For vanilla, I recommend using about a teaspoon of vanilla extract. For this drink, you can also add whipped cream and drizzled caramel or chocolate on top. Also, brewing your coffee the night before and cooling it in the refrigerator overnight will make the  preparation process much faster.
As you ride out the school year for these last couple of weeks of AP testing and finals, you can make yourself a mug of hot chocolate on a rainy day or a blended coffee to cool down and, for a few moments, pretend that life is almost normal.