Girls' Varsity Soccer players honored by being named All-State
Three players have been recognized as All-State players, placing them among MN's strongest athletes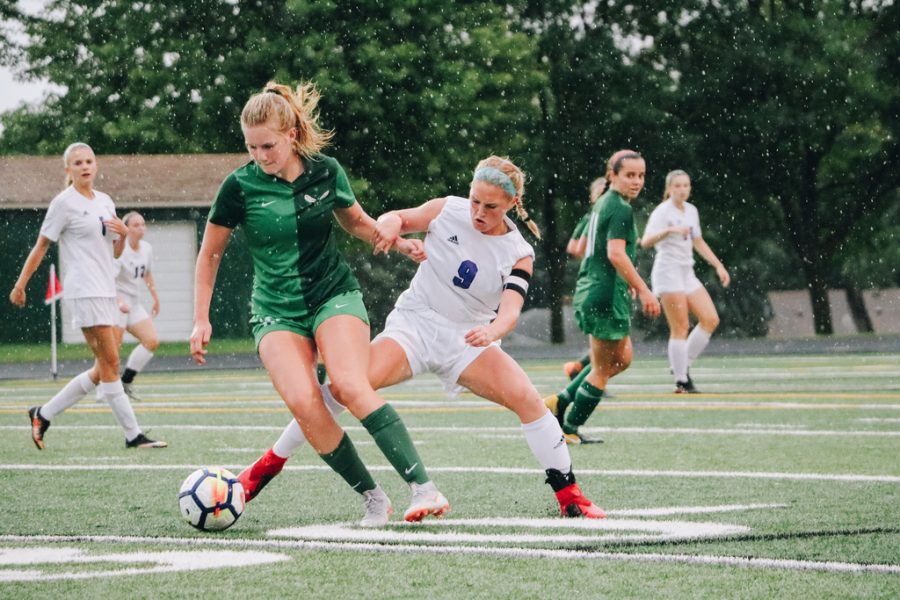 Edina High School's Girls Varsity Soccer season has now ended, but three players from the varsity team have been chosen as All-State players. Recently, the team had a tough loss in the section finals. The final scoring of the game was 2-1 with their only point scored by Maddie Dahlien in the 10th minute of the game.
Midfielders Sophia Boman and Jessie Hunt finished the season with Boman scoring six goals, and Hunt scoring seven goals, and defender Meghan Phillips with one goal. All-State players are chosen from all around Minnesota and are recognized as the top players in their gender and class. All three of these juniors, Sophia Boman, Meghan Phillips, and Jessie Hunt, were chosen as 2018 All-State players.
All three of the players have been playing soccer since they were five. A 2018 captain, Boman was an All-State player last year as well, was excited and honored to be chosen again. When Phillips and Hunt were asked how they felt about being recognized Phillips conveyed "It's an honor, it's really cool, and it's nice to have teammates who are supportive," Hunt added, "It's really exciting and fun."
Recognition as an All-State player requires hard-work and lots of effort—the players train and play year-round. The girls have almost daily practices for the varsity season but also practice on their own. "I did a lot of personal training and working hard to get fit and ready for the season," Phillips said of her preparation for the varsity season.
"I play it throughout the whole year, so, it's preparing the whole year and making sure to practice and staying on top of it," Boman said.
Even though soccer mainly occupies the girls' time, they are also involved in some other activities. Hunt and Boman both participate in their churches. Additionally, Hunt is a member of engineering club at EHS. Phillips is a summer waterskier and performs in a showcase.
All of the players want to continue to play soccer after high school. Boman already plans on playing for the University of Minnesota; however, Phillips and Hunt haven't made any college commitments yet: "I'm undecided yet but I'm hoping to [commit to a school]," said Phillips. "I'm talking to a couple of schools," added Hunt.
About the Contributors
Sadie Johnson Sieben, Page Editor
Sadie Johnson Sieben is extremely short, struggling to even reach items on the second shelf but her loud, bubbly personality makes up for it. In her free...