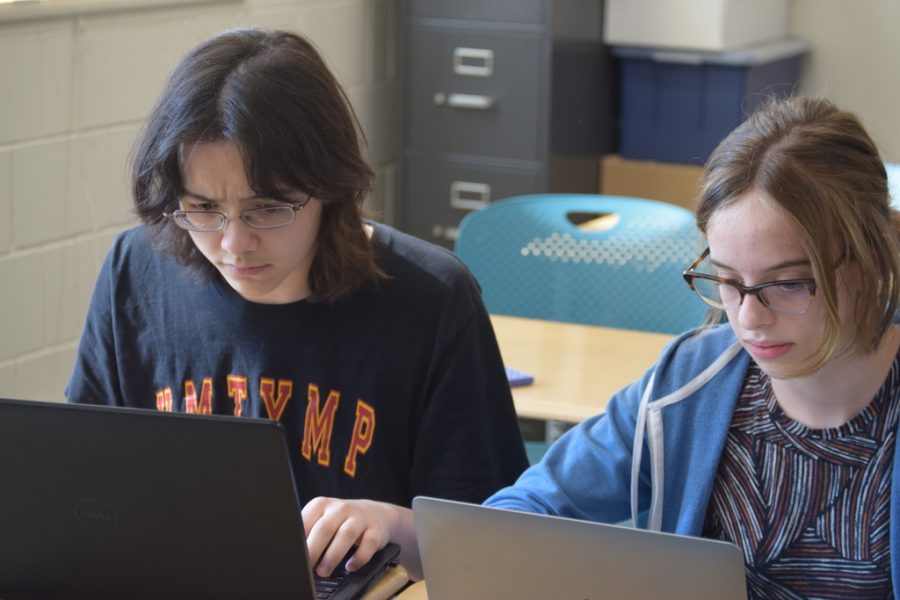 Mimi Beringer
While most students look forward to summer all year as a chance to relax and take a well-deserved break from school work, five speech and debate students from Edina will have a vastly different reality. Claire Anderson McElligott, Joshua Ding, Mark Kivimaki, Tanner Jones, and Theo Teske will spend the first month of their summer researching, completing practice speeches, and compiling files to prepare for the national speech and debate tournament in Fort Lauderdale, Florida.
After qualifying through a series of tournaments, the top three competitors in each competitive district will attend. From Edina, Anderson McElligott and Ding will be competing as a team in policy debate and Kivimaki, Jones, and Teske will compete in extemporaneous speaking, or "extemp" for short. While the policy team will be debating on the 2017-18 education topic, the extemp speakers will be giving speeches on current events in both the foreign and domestic categories.
Ding, a junior, and Anderson McElligott, a freshman, will be attending for the first time in their debate careers. As a second-year partnership, along with qualifying for nationals, they also finished as quarter-finalists at the state tournament.
Kivimaki, a junior, Jones, a senior, and Teske, a sophomore, will be competing in extemp. After an extremely successful year and a recent success (making it to finals at state for the first time since 2005), these students hope to finish out their season with success in Florida. Jones will be returning to nationals for the second time after finishing 16th in 2017; Teske won the national middle school championship in 8th grade.
However, in order to succeed against some of the most dedicated teams in the country, both policy and extemp have been preparing. "We've had about four hours of practice a week since late April, but because AP tests are over now we're going to start practicing a lot more. We do practice debates, write out our arguments, and read about what other people have argued in the past to see what we might encounter at nationals," Anderson McElligott said.
With all the work they're putting in, the students from Edina hope to garner positive results. As driven individuals, this will undoubtedly be a highlight of their season. The competitors not only hope to be successful at the tournament, but they also hope to gain valuable experience, improving their skill set. "I hope to improve through the preparation so I can do even better next season. The tournament will be a fun experience while also having the toughest level of competition I've faced so far in my career," Kivimaki said. "I hope to gain more experience competing against some of the most talented debaters in the country at a high-stakes tournament," Anderson McElligott said.
Despite being a high stakes tournament full of talent and competition, the competitors will still get the chance to enjoy their summer, relaxing on the beach while taking a break from discussing policy and current events. "I'm looking forward to running my favorite arguments, but also spending a week in Florida with some pretty cool people," Anderson McElligott said.