Experiment with some new quarantine activities
April 29, 2020
As we have all been stuck at home for five weeks, the boredom is setting in and the endless hours of eLearning are becoming monotonous. To combat this, we've all tried binging Netflix until sunrise, gluing ourselves to the Animal Crossing screen, and entering a spring hibernation. These methods probably worked for a time, but I bet you haven't thought of this one: retrying childhood science experiments. Continue reading for instructions on making a couple of popular experiments.
The classic baking soda volcano is a simple combination of sodium bicarbonate, or baking soda, and a solution of acetic acid, which is found in vinegar. When these two ingredients  are combined, the mixture fizzes and expands, releasing carbon dioxide. While this reaction is entertaining on its own, it can be used to simulate the eruption of a volcano.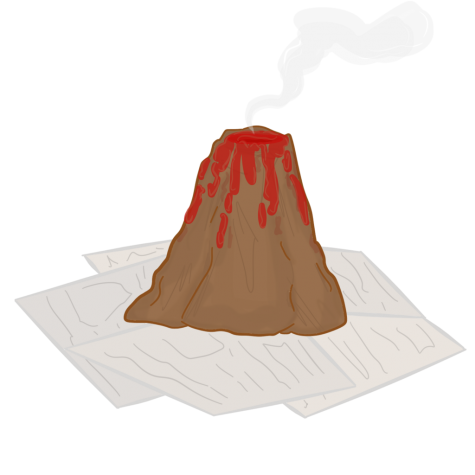 Making a volcano combines art with science because a portion of the project is sculpting and designing a volcano, and then creating the reaction inside. Red and orange food coloring are used to create "lava" that erupts from the volcano. However, creating the reaction in an empty soda bottle will be a quicker way to simulate the eruption without any decorating or sculpting.
To make your reaction work the best, a 12:1 ratio of vinegar to baking soda is recommended by handsonaswegrow, a website for educational activities.
The elephant toothpaste experiment is a bit more intensive and will require some more clean-up than the baking soda volcano, but the reaction is much bigger. In this experiment, you pour a mixture of warm water and yeast into a mixture of dish soap and hydrogen peroxide to create a foaming reaction. Like the volcano, you can color the reaction by adding food coloring to the dish soap and hydrogen peroxide.
According to ThoughtCo, you should combine ½ cup of 3% hydrogen peroxide with a ¼ cup of dish soap to create the first solution. Then mix an active yeast packet with warm water and let it sit for five minutes. When you pour the yeast into the hydrogen peroxide solution, the reaction will begin. 
As we enter this second month of quarantine, these fun science experiments are sure to remind you of your childhood and entertain you on a warm spring day. Make sure to invite your younger siblings and parents to watch to put a smile on the whole family's face.