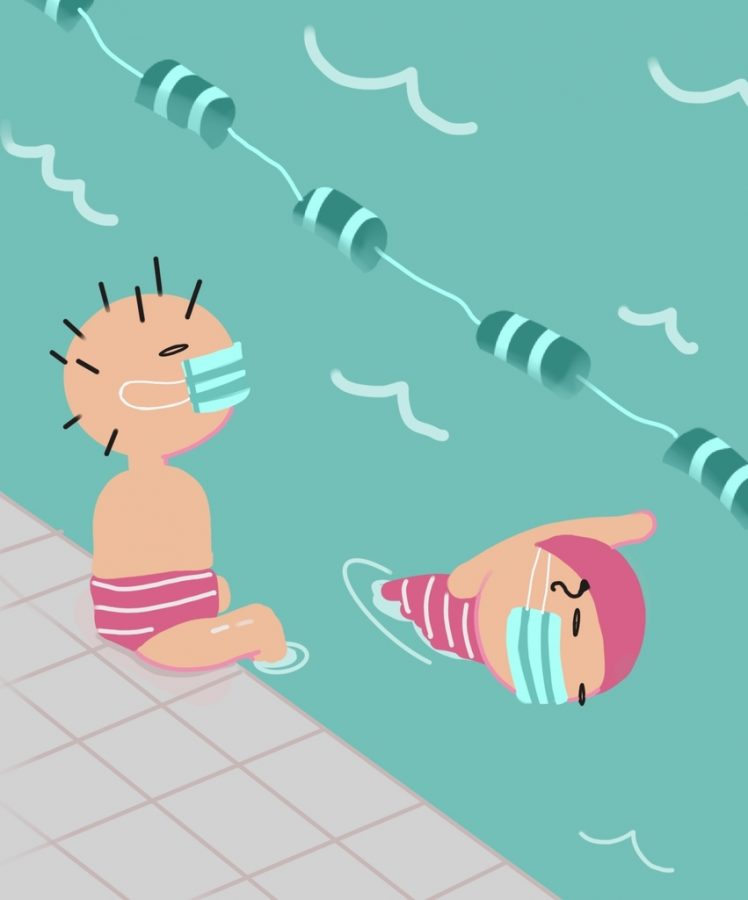 Betsy Lundburg
Senior athletes Lily Gremmels and Claudia Chang are no strangers to competition. Both award-winning athletes, the two swimmers have competed for both the Edina High School Varsity team and other club teams: the Edina Gators and Aquajets, respectively. As the virus began to spread within the US, however, they saw their college recruitment process change dramatically.
Typically, coaches are allowed to start scouting potential athletes on June 15 after their sophomore year, unable to contact the athletes directly before then. Following June 15, athletes and coaches may communicate with each other, discuss potential commitment opportunities, and plan future visits to campus. Aug. 1 of that same year marks the date when prospective students are able to take official tours of their potential college campus and meet the rest of the team. "Once you narrow your schools down, [the visit] is kind of a big influence. You get to meet the team, see the environment and the coaches," Chang said.
Chang visited a number of colleges during her junior year and announced her verbal commitment to Yale University earlier this month. Though she had already decided upon Yale before the virus hit, she knows of many athletes who have been impacted by the pandemic. 
Gremmels was planning to visit several colleges on official recruiting visits last spring—all of which were cancelled. "[Those visits] are usually where you stay in a dorm with someone on the team, follow them around for a weekend, and you can kind of see a day in their life with classes and practices," Gremmels said. "It was tough not having that, but I still was able to hear from [athletes on campus] and the coaches did a good job setting up Zoom calls."
Initially, Gremmels saw Dartmouth and Georgetown as her two top choices. However, Dartmouth cancelled their swimming program after their revenue dropped during the spring of 2020. "When I heard they had cut their program, I was shocked. I know someone who swims there too, and she suddenly didn't have a team, which is really sad," Gremmels said. Some other schools have followed suit, with both Michigan State University and the University of Iowa cancelling their swimming programs. 
Luckily, Gremmels hadn't yet committed to Dartmouth's program and was able to talk with other schools about their teams, ultimately committing to Georgetown University where she plans to follow a pre-med track.
Her new team, the Georgetown Hoyas, are following a similarly strict set of guidelines set by the NCAA. Sports teams aren't allowed to hold official practices, so a number of seniors have stepped up to lead practices off-campus in order to maintain physical fitness in preparation for the season.
The impacts of COVID can still be seen throughout high school and club practices. For Chang's club team (she opted out of high school swimming this year due to coronavirus concerns), all athletes are masked up when they aren't swimming in lanes of one to two people. "My family and I were nervous about both going back to school and going back to high school swimming. We didn't want to have any sort of risk, and I was more comfortable with how my club team was handling [COVID-19]," Chang said.
 "All the meets are really socially distanced, you sit in chairs that are really far apart and when you show up to practices, [the coaches] will take your temperature," Gremmels said. 
Gremmels, who participated in both high school and club swimming this year, noted the difference between this year and her past seasons. With all large events being mostly masked, outdoors, and socially distant, much of the normalcy and routine that comes with high school athletics was lost. "We just finished high school swimming and it was weird because usually high school and [club teams] are filled with team events, with [Edina Gators] we're always going to travel meets, and all that is just gone," Gremmels said.
However, Chang, Gremmels, and their teammates have found different ways to make the best out of a difficult situation. "Most of my teammates and I have been so much more grateful just for the chance to swim. After taking so much time off, I'm excited to go to the pool every day," Chang said.