EHS Faith Club: creating a community
A staple aspect of Wednesday mornings for members of the Faith Club is coming to school early to eat donuts with friends, all while deepening their Christian faith. Senior and founder of the Faith Club Faye Douglas works to raise turnout for the club, and one of the ways she accomplishes this is by providing doughnuts at the weekly meetings. The Faith Club meets in room E345 every Wednesday morning at 7:30 a.m. to discuss Christianity, and all are welcome.
The weekly meetings feature a beginning sermon, a game, a lesson, and group discussion. However, the most notable feature of the meetings is the closing prayer, in which members pitch ideas for prayers. At one meeting, they prayed for the health of friends or family, along with overall health and academic success.
Although the club wants to spread the Christian faith to other students, its main goal is to provide a community of like-minded people in Edina High School. Sophomore Linnea Shively affirms the positive influence she has experienced by being a member: "I liked the idea of being able to go and meet with people who have similar beliefs to you and have the encouraging community of Christians at your high school as well."
Douglas also confirms that this was one of her main intentions when she created the club. "The school environment isn't exactly the best environment I suppose, so that's kind of why I created the club so that people in school could have a gathering of people to share the same faith and also to discover their faith in Jesus," Douglas said. She said she also created the club as a means to explore and strengthen her own faith.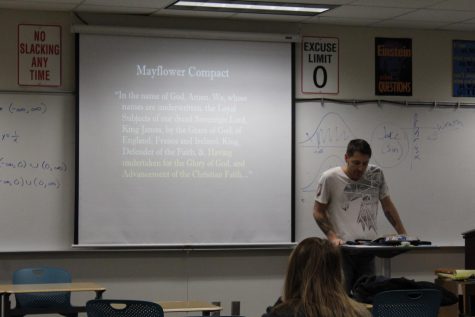 Brennen Merriam
Although Shively enjoys the community of the Faith Club, she experiences other benefits as well. At a recent meeting, Shively had the chance to teach her own lesson about maintaining faith during the Christmas season. "I learned kind of how to be able to put together a lesson, and also figuring out what to talk about helped me and my faith too," Shively said. That meeting's game also revolved around her lesson, in the form of a Christmas-themed Kahoot.
Although the club consists of largely like-minded Christians, they also foster conversations with an emphasis on diversifying worldviews. "We also have small-group talks afterward where we reflect, so you also get perspective from other people who share the same beliefs in God. That makes you a stronger person because you can look at [issues] from other people's perspectives too," Douglas said.
Shively also revealed that participating in the club has allowed her to speak about her faith. "[I]t's definitely changed my faith positively because it's helped me be more confident because I can bring [Christianity] up in conversations with people at school," Shively said.
According to Shively, Douglas' leadership was also a defining factor in the success of the club. "Faye is one of the most amazing people I have ever met. She is so much fun because she's so welcoming to everyone and she's just super excited, and she draws people in," Shively said. She continued, "That made me excited to go, and she's really creating a community and inviting more people, and she really strives to encourage us in our faith as well. It's also cool because she's an upperclassman and she's really reaching out to the underclassmen."
Douglas reiterates the value she sees in the emergence of the club at EHS: "It was more just bringing faith to school so that kids have…a group of people to have something in common with, but also to have Jesus in common with because that's a big part of a lot of people's lives. I think it should be really important."
About the Contributors
Reagan Stanchfield, Copy Editor
Reagan Stanchfield, senior and copy editor, has a deep love for journalism, which she hopes to develop while writing for Zephyrus. When not doing excessive...
Brennen Merriam, freshman photographer
Brennen is the Zephyrus freshman photographer who when not falling off his mountain bike, has been known to flex his Reddit karma, shoes, and an uncracked...