EHS athletes pledge their commitments to top notch programs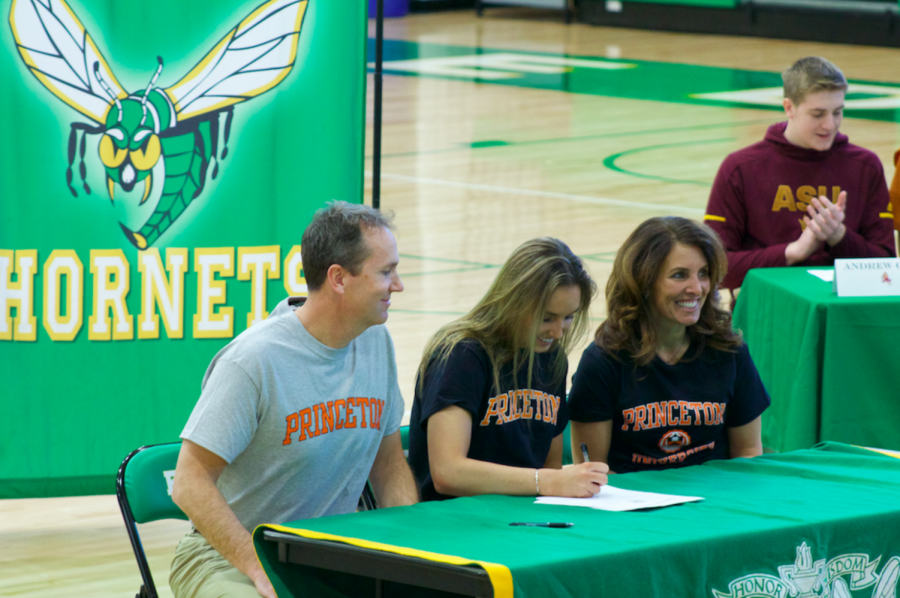 On Thursday, Nov. 15, stellar Edina High School athletes officially signed their commitment to play collegiate level sports. Chatter filled the seats of the activity center as parents, grandparents, and friends awaited for an important day at EHS. Athletes were scattered around, each repping a college they had committed to for athletics.
Speaking first, Troy Stein, EHS activities director welcomed parents and athletes for the important day, "It's always a pleasure to be a part of this program I appreciate all of you out here to support…certainly these fine student athletes have put forth a tremendous amount of time, effort and commitment."
Stein acknowledged the quality of the athletes on the panel, who both excelled in academics and athletics, having a "3.86 combined GPA," clearly putting their all into their commitments.
Andrew Gray, a "leader in and out of the water," head swimming coach, as Scott Johnson said, has committed to swim at Arizona State University. Following Gray, Peter Larson, a fellow swimmer who was "nationally recognized," Johnson said, signed his commitment to be a Texas longhorn at the University of Texas—Austin continued the track of EHS swimmers electing to be college athletes. Both talents and passion were attested to by Johnson.
Andrea Jansson committed to North Dakota University for tennis. Following the announcement, head girls tennis coach Steve Paulsen described Jansson's dedication to the team and talent that allowed her to be successful, "as a junior, she went undefeated" and continued that track into a successful senior year as well. Being one of the most "offensive players" gave her an edge in her success.
Next came Emilie Lijesen who committed to Duke University for rowing. Because rowing is not an EHS sport, Lijesen was joined by the girls head soccer coach, Katie Aafedt who described her dedication to the soccer field and her commitment to being a leader on and off the field as being fundamental to her success. "Em, on behalf of the entire Edina High School soccer team, we couldn't be more proud of you."
In girls hockey, Mallory Uihlein is a committee to Penn State University. Speaking on her behalf was head coach Samantha Reber describing Uihlein as "someone we can rely on day in and day out," Reber said. Following Uihlein and continuing the line of hockey players was Annie Kuehl committed to Princeton University. Reber also spoke on behalf of her describing her "strong, reliable, and versatile" character. Also committed for girls hockey was Dartmouth College bound student CC Bowlby. "CC is one of the most dynamic hockey players of her age," Reber said.
Moving on to boys cross country, Max Manley committed to Miami University of Ohio. Coach Jamie Kirkpatrick spoke of Manley's accomplishments and thanking him for being able to "[lead] us to our first state championship." Leaving Manley a final message, "best of luck at Miami…you have better and bigger things ahead of you," Kirkpatrick said.
Volleyball committees came next first with Christine Graf who was signed with California Baptist University followed by teammate Taelyr Czech committed to Merrimack College. Both were represented by their new head coach, Mark Nelson.
In boys basketball, Jack Middleton has signed to the University of Minnesota Duluth and was represented by his coach Joe Berger. Berger described his "quiet confidence" that was "contagious," as well as emphasized the high level of moral character Middleton possessed.
Finishing off, in boys hockey, Mike Vorlicky committed to University of Wisconsin- Madison, Mason Nevers signed with the University of Minnesota, and Jett Jungels committed to Northern Michigan University. Head coach Curt Giles interjected humorously, "I have no idea how these three stiffs got here today," Giles said. However, he concluded with specific examples of moral character, it was clear that each athlete represented had gone above and beyond for their success.
Concluding the ceremony, Stein emphasized the caliber each of the athletes had in them. "I do have a message for all of you…this next level is going to be a challenge…you're going to face some adversity. The one thing I want you to do is stay grounded…go back to the roots."
Although this is an exciting day for the future of the athletes and their families it is also a proud day for EHS where excellent students and equally as excellent athletes will go on to represent all Edina has to offer. "You are always welcome here and you are always Edina Hornets. I want to wish you the best of luck." Stein said.
About the Contributors
Kyra Bergerud, Administrative Coordinator
As a proud Ravenclaw, avid reader, and coffee addict, it is no doubt that staff writer Kyra Bergerud has a notable presence at EHS as a nerd. Hovering...
Brennen Merriam, freshman photographer
Brennen is the Zephyrus freshman photographer who when not falling off his mountain bike, has been known to flex his Reddit karma, shoes, and an uncracked...