Edina's adaptive sports program: a gateway to friendships, community, and opportunity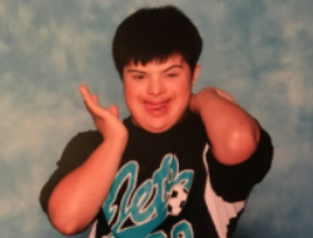 Ethan Parmekar has always loved hockey. 
In fact, he's been a dedicated Edina Hockey superfan for over 10 years. For most of his life, Ethan has been his brother's biggest supporter at his winter ice-hockey games, cheering him on from the stands. After years of watching, Parmekar received the chance to take a step from the sidelines and do what he loved most.
"He's obsessed with sports," Ethan's mom, Lorna Parmekar, said. It only seemed fitting he would join a sports team of his own in the seventh grade: Edina's adaptive sports program. 
"Rather than going to his brothers' games as a spectator, it was something he could do with his friends," Lorna said. 
The adaptive sports program at Edina's middle and high schools consists of two sports teams, the Jets and the Flyers, designed for students with cognitive and physical disabilities, respectively. As a senior at Edina High School, Ethan will be completing his sixth year playing soccer and softball for the Jets. 
"He watched more in the first few seasons and then would get more excited about it, " Lorna said. "To be able to participate in an extracurricular sports program has been great for him." 
Jeff Davison, the adapted athletics coach and coordinator, emphasized that the goals of the program go well beyond improvement at the sport. "They have shown great strides in learning more social skills," Davison said. "They make a lot of friends [that] they are on the same team with, and even though they might go to a different school, they form a friendship and a bond with their opponents." 
And these friendships don't end when the game does, they persist well beyond the court. A few of the teammates attend programs at Gigi's Playhouse (a local down-syndrome achievement center), compete on a downhill ski team, and participate in Edina High Schools' Theater for All program together.
The team also hosts a friends and family game at the end of each season, which not only gives team members the chance to see their fans, but also allows their biggest supporters to meet one another. 
"[The program] is a great connector," Lorna said. It allows for a tight-knit special needs community to be formed not only in Edina but with other participating teams in Eden Prairie and Bloomington. Through this community, families are able to learn about opportunities ranging from sports and theater to future Special Olympic aspirations. For example, Ethan is a lover of football. These past two summers, he's done the weight-training program with Edina's football team. Davison, on the other hand, mentioned how participation in the activity may encourage students to pursue the coaching aspect of the sport one day. The community serves as a tool for helping students' current and future aspirations become a reality. 
The team is also made easy and accessible to families in Edina. The program provides paras for students to participate, allowing parents to watch. On practice and game days, they provide after-school bussing to court locations as well as their respective houses after. 
"[The program] was something he did not depend on me for, to the point where Ethan did not want to ride home with me after games," Lorna said. "He wanted to ride the bus with his friends and para and Jeff and the staff." 
Through it all, it was this confidence and independence that Lorna believes was Ethan's biggest takeaway from the adaptive sports program. 
"The main thing he got out of Jets was having something that was his and not necessarily his brothers or being a spectator," Lorna said. "It's the same for Theater for All. He gets to be on stage and we watch him." 
These special-education programs have been able to be offered at Edina as a result of it being one of the first districts in the state to get funding for them. Davison believes these programs will only continue to grow, not only in Edina, but as neighboring school districts work to secure funding.
"It's only going to get better," Davison said. "You learn something and you adapt to it, and you're able to create something that allows the kids with either a mental or physical disability to interact with gen-ed students." 
In fact, looking to the past 40 and 50 years can make the growth in special-ed programs extremely apparent. From a time where special-ed students were often isolated in classrooms, advances have been made in the educational experiences they now have access to. Edina has been one school district that's been able to spearhead these initiatives. 
Although Ethan now has a team and games of his own, he's still the dedicated Edina hockey fan he once was. He sits out the winters in the adaptive sports seasons so he can watch his brothers' ice-hockey games. 
"He loves cheering for other people at sporting events," Lorna said. "I think for him to have people cheering for him is the really exciting part."