Edina Promenade features art designed by elementary students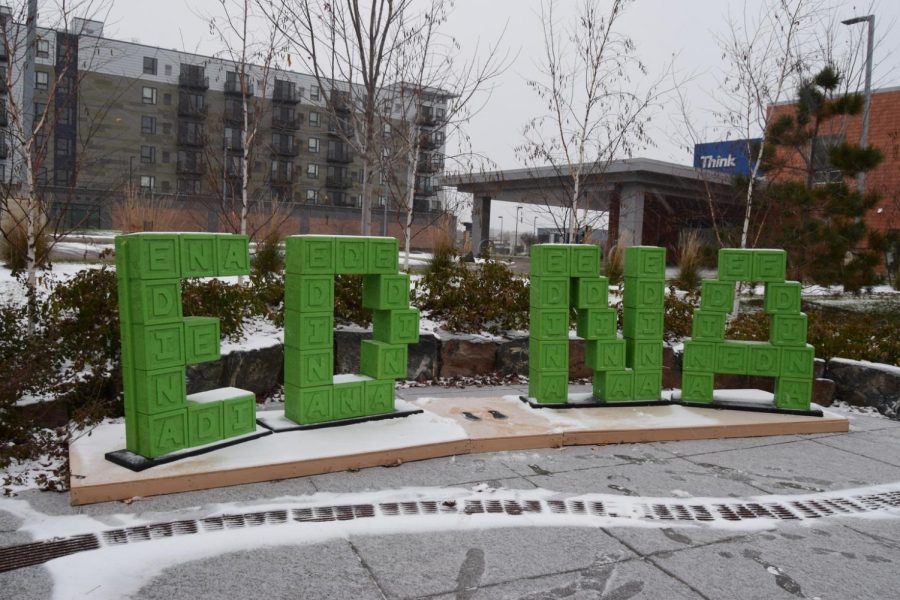 The Edina Promenade (near Hazelton Road) acquired three new sculptures this month, all of which were designed by students from Highlands, Concord, and Normandale elementary schools. Mac Anderson–EHS social studies teacher Erik Anderson's son–was one of the selected students. His design, titled "The I in Edina," is composed of the letters E, D, N, and A. The observer who stands in the middle of the sculpture completes the word by acting as the "I."
Last year, the district introduced this design project with grants from the Edina Education Fund and the Arts and Culture Commission. After acquiring 130 submissions from Edina elementary students, judges narrowed the pool down to three designs. The selected students each got to work with a local artist to make their design come to life.
"He was really proud to be selected, and he was really happy to be able to work on it over the summer," Mr. Anderson said about Mac's involvement in the project. "He was a little shy when they first revealed it, but in his heart, he was really happy to be chosen."
Mac, along with the other two selected students–Ayana Griswold (Highlands) and Sylvia van Norman (Normandale)–participated in the reveal of the three sculptures this month. District employees were present, and community members got to see the finished sculptures for the first time.
"My favorite part about this is that it was a school-community-parental partnership. Someone from the school proposed it, the community group funded it, and the art teachers helped with it. Once [Mac] was selected, parents were involved, and then Charles Morrill, the sculptor, was great with helping put it together. Everyone was working together to realize the vision," Anderson added.
When asked about the process of creating his sculpture, Mac said: "I'm happy because I like Edina and people can walk by and enjoy it."
No doubt this project was a great way to unify people from all areas of the community, and with the art now on display, passersby will also get to benefit from the creative process being fostered in these Edina elementary schools.
About the Contributors
Simone Vaillancourt, print editor-in-chief
Simone (Salmon) Vaillancourt is a junior at EHS, and is excited to be on Zephyrus. A vegetarian enthusiast who dislikes vegans (apparently it's a thing),...
Mimi Beringer, Visual Editor
Mimi is a senior photographer for the paper. Her favorite things include watching iCarly and staying awake. Her favorite foods are celery and corn. She...