Curtains closed: The uncertain future of the performing arts
The COVID-19 pandemic brought entire industries to their knees, but few to none were hit quite as hard as the entertainment industry; around the nation, marquees remain empty and theaters are largely deserted. After nearly a year of the virus' entrance to the U.S., the shockwaves of COVID-19 are still being felt by actors and creatives around the globe. Over the past season alone, 13 Broadway shows were either closed or postponed following the virus' spread. The ever-popular and critically acclaimed "Mean Girls: The Musical" faced the brunt of the virus' effects within the theater community as the smash hit announced its closure on Jan. 7, stating that the show will not be returning to New York City upon reopening. 
Though unfortunate, the closure of "Mean Girls" is not an isolated incident—musicals and plays alike have faced significant challenges over the past year and Edina High School is not an exception. The award-winning EHS theater department was forced to cancel the spring 2020 musical of "Into the Woods" following the pandemic and has been attempting to regain its footing during an extraordinarily worrying time for the arts. Kate Wexler, an EHS senior, found difficulty in reconciling the fact that her last year with the EHS theater department would be operating virtually. "I just kind of accepted it as a fact, [theater] is not going to be the same. I'm going to try to make the best of it, but it's definitely not how I envisioned my last year," Wexler said.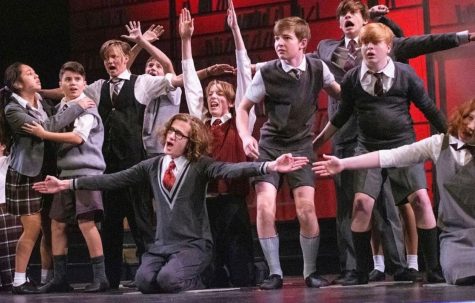 Wexler herself has been involved in performing arts from a young age—Wexler's parents are both involved with the entertainment industry and she recalls how she was often "dragged to rehearsals" until she began acting in shows within Edina Public Schools. This initial exposure blossomed into a passion for performing and participating in theater productions, leading Wexler to eye a future in the arts. "I've thought about possibly going into acting, I definitely still want to have [theater] in my life if I'm not majoring or minoring in it. Theater is just such a joy that I still want to grasp because it's such a beautiful art form," Wexler said. Though she has found Zoom performances to be somewhat fatiguing, EHS plans to return to a hybrid model on Feb. 16 and theater rehearsals will follow suit with in-person rehearsals. "It's definitely now different, especially because now we're rehearsing to actually go on stage," Wexler said.
The story of early involvement rings true for several other thespians; EHS junior Cella Porter looks back fondly on her early years of performing and the strong bonds she has formed through theater productions. "The reason I've stuck with theater through middle and high school is because of the community," Porter said. This appreciation for the theater community ultimately led her to run for leadership within the EHS Thespian Club where she currently serves as Co-Vice President. As a leader in the high school theater community, COVID-19 has brought forth a host of new creative and logistical challenges for the club. "It's intimidating, because I've always looked to [Wexler's] grade and followed in their footsteps. Now, [Co-Vice President Ethan Letsch] and I are thinking "What are we going to do?"" Porter said.
Theater is often lauded as a space where a diverse and creative set of individuals can form a sense of community and connection; this has proven to be increasingly more challenging as the pandemic continues to devastate the performing arts industry. The difficult communication between the cast left many of the friendships formed through theater much different than before as students found that they needed to improvise in order to forge strong relationships. "It was hard sometimes to connect with people—luckily with technology you can connect in group chats," Wexler said. 
To the EHS theater department, however, digital performances acted as a catalyst for creative freedom and several new artistic opportunities. The annual EHS One Act play was hosted virtually and the writer of the show, EHS alum Erin Deegan, designed the show to be adaptable for digital performances. Porter, a member of the cast, "got multiple comments from people who watched the show" saying that the One Act was perfect to host on Zoom. Such digital methods have been adapted by creatives and artists around the nation in the form of recorded musicals. Ratatouille the Musical—originally a Tik Tok sensation—raised over two million dollars for the Broadway Actors Fund, a non-profit organization focused on providing financial assistance to struggling entertainers. 
Within the greater Minneapolis-St. Paul area, several other organizations are adapting to a virtual and socially distant business model. Lisa Krohn, the Director of Bookings for the Hennepin Theater Trust, has seen the impact of digitized media within the performing arts industry and expects such projects to continue. "I think it's very clear that these musical recordings for TV viewing are a hit for those who don't have access to a Broadway market, even before the pandemic," Krohn said. As the former Director of Marking for the Hennepin Theater Trust, Krohn doesn't foresee a significant change in marketing tactics following COVID-19. "I think the demand is definitely there for people to want to resume attending live events in our theatres, but they may need very clear communication from us, to help them know what to expect, and reassure them that it's safe to do so," Krohn said.
Despite creative obstacles and challenges that the arts have faced, both industry professionals and student thespians have echoed the joy that theater brings. "Watching our patrons come into the theater… is what I'm looking forward to experiencing again—being surrounded by people who are there with others to experience the excitement and joy of live entertainment," Krohn said. Even within limited capacities and performances, EHS students like Wexler are finding pockets of happiness. "It's the little moments that I miss. The sense of community is just so strong. [Even virtually], if it makes you smile, I think that's something to hold on to," Wexler said.