Athlete of the Month: Taelyr Czech
Girls' Varsity Volleyball player Taelyr Czech demonstrates both skill and motivation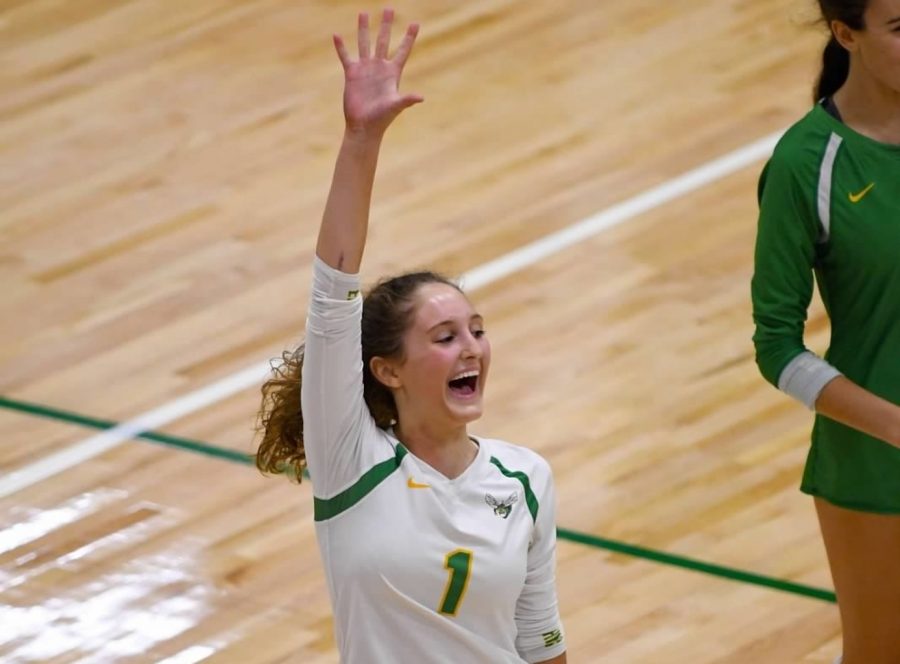 If you went to a volleyball game at Edina High School, it wouldn't be first instinct to look to the back row where senior Taelyr Czech plays. As the team libero, however, Czech's defensive position is instrumental to the team's success and sets the tone for the course of the game.  
Being the libero requires intense mental calculation with little to no room for misstep. Czech defends the court playing the furthest back position in order to ensure the most successful plays; she even wears a different color jersey to mark her position on the team. Whereas some other positions can afford to make mistakes, Czech doesn't have that luxury in her role. "I stay in the back row play defense and serve," Czech said.
Without her the game would be impossible. "She's in the back, she's primarily responsible for first contact even if she doesn't take it every time. She only plays back row through passes and defense. If you can't pass you can't win. It's a very important role," Mark Nelson, the girls volleyball coach, said.
In addition to being the libero, Czech's infectious and generous attitude makes her a key component of fostering that same energy on the team. "She's always positive, not super up or down, matches my culture and style really well, she mirrors that," Nelson said.
As an extremely competitive person, Czech always brings everything she has to practice, never being afraid to take the hard way out. Her go-getter attitude is what makes her a fundamental component of the team."Practice transitions into your games, if you're working hard in practice and getting better you're only going to play better in games," Czech said.
Czech's role as the libero on the team is indisputable as being crucial to their success and her motivation is a key component to that. "She's not going to bring anything negative to the team. If she's not playing well, no one would ever know it. She brings that same energy and always does her best. That's infectious for others," Nelson said.
About the Contributors
Kyra Bergerud, Administrative Coordinator
As a proud Ravenclaw, avid reader, and coffee addict, it is no doubt that staff writer Kyra Bergerud has a notable presence at EHS as a nerd. Hovering...