"Alone" takes social distancing to a whole new level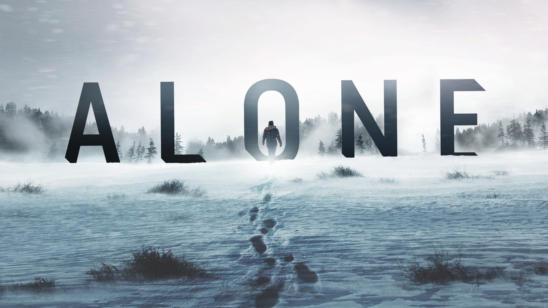 *This TV show includes graphic imagery of hunting, drastic weight loss, and mental health struggles.
General Review
"The Hunger Games" meets "Survivor" in History's reality television show "Alone." In the show, 10 people are brought to live and survive in a remote wilderness environment separated from one another, and the last one to remain wins $500,000. Each competitor is allowed to bring clothing, a first aid kit, a satellite phone to contact the rescue team, and 10 items from an approved list—common choices being tarps, paracord, a bow, arrows, etc.
"Alone" is unique from other survival reality shows because the contestants are responsible for their own camera work. Each competitor is given around 50 pounds of camera equipment, and they document their journey in a vlog-style format. However, some additional professional drone footage of the camp locations provides great context for the surrounding terrain. While the camera work isn't professional quality, it makes the game's isolated-survival premise more genuine because the contestants are truly alone. Also, when someone trips or faints, the first-person perspective from their GoPro is amusing.
So far, there have been seven seasons of "Alone," with several different locations for the competitions: 
Vancouver Island (seasons one, two, and four)

Patagonia (season three)

Mongolia (season five)

Northwest Territories in Canada (seasons six and seven). 
In addition to the changing locations, seasons often have variation on the basic rules. In season four, seven teams of two competitors started 10 miles apart and had to find each other using GPS. In the most recent season, the contestants competed to last 100 days, for a total prize of $1 million, split among the remaining contestants. The changing locations and rules throughout seasons are some of the best parts of this show because they keep the survival challenges interesting.
Season Six Review
*This section includes spoilers for season six of "Alone," but it does not include the final winner. I chose to specifically review this season because it is the only season available on Netflix.
In this season of "Alone," 10 competitors follow the standard rules of the game at Great Slave Lake in the Northwest Territories, Canada. Season six is the first of two seasons, so far, to be held in the Arctic.
An added challenge to the game was the arrival of snow and below-freezing temperatures a ways into the competition. With the arrival of snow, plant life was dying and food supplies were limited to hunting and fishing. However, one of the biggest challenges was when the lake froze because it forced contestants to switch their tactics to ice fishing, and it made the necessary task of getting water much more energy-intensive.
Like other seasons, there were some very interesting competitors and others who were indistinct. Some of my favorite people from season six were Woniya, Jordan, and Barry. Woniya was unique because she focused on bringing "feminine energy" into her strategy for survival, and one of her goals was to be the first woman to win. Jordan was an interesting player from the start because he distinguished himself by hunting a moose, and he drew on his experience from training with indigenous reindeer hunters. Barry also caught my attention early on with his optimism and experience gained as a self-defense instructor. He was disqualified by the medical team for losing too much weight, and because of his homemade "Camp Swift Victory" sign welcoming us into his camp, his forced removal from the competition was heartbreaking.
Overall, season six was one of the more enjoyable seasons because of the high stakes that came from the cold climate. For example, shelter fires were common in this season because the contestants used dry plant matter as insulation, which easily caught fire. The worst fire happened to Nathan late in the game, and ultimately, it sent him home after he spent seven hours without shelter waiting for the rescue team. After watching season six, I am excited to continue on to season seven and watch competitors attempt to survive under higher stakes—surviving 100 days in the Arctic.
About the Contributors
Reagan Stanchfield, Page Editor
Reagan Stanchfield, a junior and page editor, has a deep love for journalism, which she hopes to develop while writing for Zephyrus. When not doing excessive...