Addressing the root causes: social media, scapegoating, and ignorance
December 19, 2022
Kennedy's comment rings true at a time when antisemitism is widely being espoused by high-profile celebrities. Hip-hop artist Ye, formerly known as Kanye West, has garnered attention for claiming he "like[s] Hitler" on Alex Jones' podcast and posting a swastika inside of a Star of David. NBA player Kyrie Irving was suspended from the Nets for posting a link to an antisemitic film that alleges that Jews worship Satan. 
Harlan Brand, a building substitute at EHS, wore a jersey of Ama're Stoudemire, a retired NBA player who converted to Judaism and moved to Israel, during his interview to "counter the recent antisemitism of Kyrie Irving."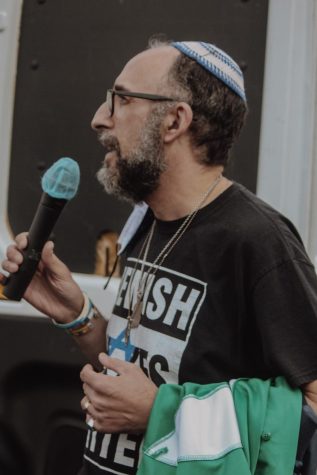 Last March, Brand spoke about antisemitism at a student-organized walkout in the wake of the antisemitic video being shared on social media. He believes one of the most important aspects of combating Jewish hate is recognizing that it can come from all sides of the political aisle. "Everybody focuses in on Charlottesville, not that they shouldn't, or the Pittsburgh synagogue shooting, not that they shouldn't, but there's also examples of left-wing antisemitism, most recently and most obviously Kyrie Irving and Kanye West. And Ilhan Omar has said things that are clearly antisemitic," he said. 
Brand recalled receiving an antisemitic flier from Omar's campaign, a U.S. House of Representatives congress member whose district includes parts of Edina. The flier criticized "big political donors," all of whom had Jewish names. "I'm not rich and I'm Jewish," Brand said. "I think [progressive Democrats] have been responsible for a lot of antisemitism and that doesn't get looked at very critically."
Kennedy, who has written on the origins of antisemitism, explained how hatred stems from scapegoating minority groups. "Many people feel a sense of threat when their own world shifts a little bit…And one of the ways that people feel they regain control is to blame the change on someone else," she said. She traces this cycle of blame back to the Holocaust. "We certainly saw that in the most horrific way during the Holocaust, where Jews were and remain such a small percent of the population, and yet they were blamed for losing World War I, they were blamed for everything," she said. "And that same situation is occurring today. Jews have been blamed for COVID, for the climate crisis, for the economic challenges that people feel, for job losses," she said. "Many of the people who harbor these beliefs have never met a Jew."
Brand's overall message on antisemitism is this: "Antisemitism is a disease like the flu or COVID. It's not limited to one segment or another segment of society. You have to look at it that way and fight it that way."
Berman also notes the importance of taking action against antisemitism. "If, as a community, we're looking to become more inclusive and actually make that a lived experience and not just verbal promises, I think there needs to be some active work on the part of leadership, whether that's in the schools, or the city, or the sports to really make that happen. We can't just respond when something negative happens and say that's no good. There needs to be education and intersection," she said. 
Nevertheless, Berman feels it is important to emphasize the progress that has occurred within the community. "My experience in Edina as a Jewish person does have positive elements as well. I have made wonderful friends here who are very culturally aware and savvy, and we trade our cultures and our traditions, and there's great growth, education, and learning. Tolerance and acceptance all comes from that kind of exposure," she said. 
This piece was originally published in Zephyrus' print edition on Dec. 19.